Sessegnon is the new Reyna as PDC steers a Sunderland course for survival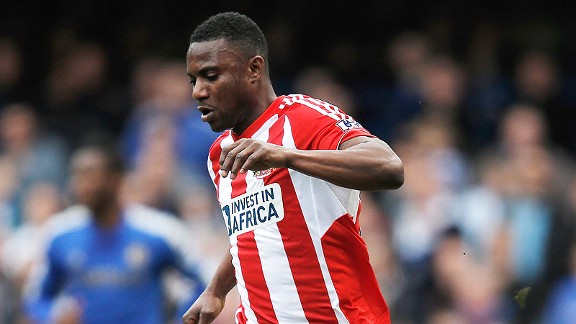 Dean Mouhtaropoulos/Getty ImagesStephane Sessegnon's late season goal-scoring streak for Sunderland mirrors that of Claudio Reyna over a decade ago.
Before anyone shouts, Stephane Sessegnon is an entirely different kind of player to Claudio Reyna. But in one important respect, they have proved indispensable in the scenario -- all too familiar to Sunderland supporters -- of fighting relegation.

Consider the events of recent weeks since even before Martin O'Neill was abruptly replaced with Paolo di Canio by the club's exasperated American owner, Ellis Short.

- Sessegnon praises Di Canio impact

The last time an out-and-out attacker scored was on March 9 when Steven Fletcher put his team ahead at Loftus Road only for one of the Premier League's feeblest contenders, QPR, to bounce back with three goals. That match probably sealed the fate of O'Neill, who for all his eloquence and past managerial achievement, seemed to be leading Sunderland relentlessly towards the Championship.

Who has provided the crucial goal-scoring spark in the back-to-back wins against Newcastle United and Everton? Sunderland's strong, richly-talented Beninese attacking midfielder. His superb opener at St James' Park provided the key that unlocked the gates to an emphatic victory. And his winner against Everton, with a strike that was almost as impressive, established an advantage that, if only for one afternoon, David Moyes's team was unable to overturn.

Those two goals may turn out to worth many millions in Mr Short's business calculations, and gold to some of the most passionate and least rewarded fans in the Premier League. Safety has not yet been secured, as PDC will be fully aware, but two positive results have made survival look a lot likelier than relegation.

Now go back to the 2001-2002 season. Peter Reid's reign as manager had given most supporters, unless they were very old, the best and most enthralling football they'd seen at either the Stadium of Light or Roker Park before it. But decline had set in. It was another of the many seasons in which nails would be bitten as a decent start gave way to disappointment and fear.

When, on December 15, Claudio Reyna made his Sunderland debut at Southampton after a successful spell at Rangers, his new team were down to 13th position. Kevin Phillips was no longer the goal-scoring machine he had been. It was a losing debut.

But when the next game, at home, still managed to attract more than 48,000 fans, Reyna was the matchwinner who sent them home happy, doing as Sessegnon managed on Saturday and scoring the only goal against Everton.

Before the start of a dreadful slump, starting with a 5-0 hammering at Ipswich Town, Reyna had helped Sunderland to another precious win, against Blackburn Rovers, though he was not among the scorers. There were to be only three more victories that season and in the last of these, Reyna hit both of the goals that beat Leicester City.

Sunderland stayed up by four points, so Reyna -- who served the United States admirably during his 111-cap international career and is now the national youth soccer technical director -- can justifiably look back with pride on his massive contribution to survival.

If Sessegnon has more natural ability, Reyna is rightly remembered for his tidier, technically sound approach to football. The former Nottingham Forest and Manchester United striker, Garry Birtles, now a television pundit, said during Saturday's game that Sessegnon, for all his skill, often made the wrong final decision; that could rarely be said of Reyna.

Which leads to a spot of contrition. A misreading of the record books caused me to attribute Sunderland's last defeat of Everton to a Phillips goal. I was right about the time, pre-Christmas 2001, wrong -- as described above -- about the scorer, who was of course Reyna. Phillips had hit the target in the previous three (unbeaten) games against the Toffeemen.

So apologies to Reyna and thanks to Sess for indirectly reminding me of the American's valuable cameo role in Sunderland's long history of trying to keep heads above water.