Sunderland's second win in six days brings safety closer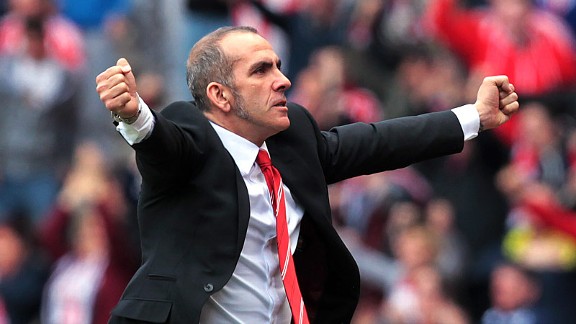 Lindsey Parnaby/AFP/Getty ImagesIn a span of six days, Paolo Di Canio has led Sunderland to a derby win over Newcastle and victory over bogey side Everton.
With one winning Stephane Sessegnon strike and one desperate Simon Mignolet save from his own teammate's bizarre backpass, Sunderland handed Paolo Di Canio victory on his home debut as head coach.

Much more important, though the importance of PDC's influence should not be underestimated, the win brought three more invaluable points and Sunderland are now back to where I believed them to be until decline under Martin O'Neill became a sharp downward spiral: Unlikely to be relegated.

Sunderland 1 Everton 0. For all of David Moyes's pantomime gestures in the Everton technical area, bemoaning this or that real or bogus grievance, the scoreline was not undeserved.

Second half possession was emphatically in Everton's favour, but this is the sort of statistic that matters somewhat less than what is actually done with greater possession.

Whether Moyes likes it or not, whether or not he is still furious that Mignolet was shown a yellow card and not sent off for the backpass incident, and whatever he felt about an imagined foul by Danny Rose on Nikica Jelavic (it was, in fact, the other way round), Sunderland did better with the ball.

Danny Graham and Adam Johnson each had excellent chances to make the scoreline more convincing and it is difficult to recall any Everton player who really went close to equalizing, despite the pressure the Toffeemen applied as the points and a Champions League place slipped away.

After the barnstorming win at St James' Park, different qualities were required against Everton and PDC seems to have gotten this point across effectively to his squad. There was organisation and determination, the need to show respect against more refined opposition and a fair degree of discipline whenever the ball bobbled around dangerously in the penalty area.

The goal came in first half stoppage time. Leighton Baines gave the ball away most uncharacteristically just inside his own half and Sessegnon picked it up, tore towards goal and fired low and hard into the left corner of Tim Howard's goal. This was very soon after Howard had superbly saved the last and best of a succession of menacing free kicks from the left by Seb Larsson; he ought to have done better with Sessegnon's shot.

Larsson, so close to being a hero before the interval, approached the status of villain in the second half. His unnecessary and quite extraordinary backpass, from roughly the same position where Baines had committed his blunder, was the nearest any player on the field got to scoring for Everton. Mignolet, probably as surprised as anyone, leapt to catch it and the resulting free kick inside the penalty area was somehow beaten away, as was the brief threat on the Sunderland goal that endured for a few seconds more.

Sunderland, from looking a team collectively sorry for itself and incapable of winning, have been transformed into a side that can once again compete with most others in the Premier.

One more win, or three draws, from the remaining four games should not be beyond them, even if 40 points are required to ensure safety this season. I was among those uncomfortable with Di Canio's appointment even if I have come to believe his political views are probably more muddled than genuinely fascistic.

But I have also resolved to judge his time at Sunderland by his achievements with the team and, on that basis, I cannot offer the least complaint.