Newcastle was easy. Now for Sunderland's real test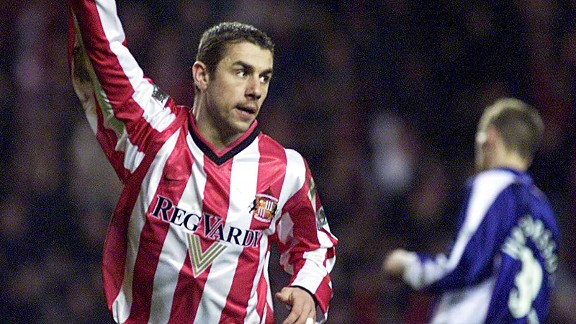 Clive Mason/Getty ImagesKevin Phillips led Sunderland to their last win over Everton way back in 2001.
Twice a season when in the same division, more when drawn together in the cup as happened last year, there is the worrying business for Sunderland of having to play Everton.

It doesn't seem to matter how well Sunderland have been doing prior to these games or what form Everton may have been in.

You can just about guarantee that someone like Tim Cahill will score, Leon Osman will fall over his own feet and somehow persuade Howard Webb it's a penalty or that either Sunderland will look as if they are suffering the effects of an all-night party or the Toffeemen will be transformed into world-beaters.

- Di Canio lays down challenge

Cahill, I am pleased to say, is now plying his trade in New York. Webb will not be officiating. But in some ways, there is more pressure -- for Paolo Di Canio and his team -- in the approach to Sunderland-Everton than there was on the Tyne-Wear derby.

Sunderland romping to victory at St James' Park was a massive outcome, producing utterly crucial points. But no one would have been surprised to see a home win. Now, in front of what could easily develop into a nervous crowd at his home debut as head coach, PDC has to turn recent history on its head and lay the Everton ghost to rest.

As I mentioned when introducing Salut! Sunderland's customary view from the enemy camp, Sunderland fans tend to call Everton a bogey team whereas Evertonians simply see themselves as a cut above (so far ahead that they would win, wouldn't they?).

Indeed, we do have to go back rather a long time to find the last occasion on which the result went what I would regard as the right way. I believed -- and originally wrote here -- that Kevin Phillips was the reason Sunderland won such an important victory in a season that was degenerating from mid-table comfort into another relegation battle. In fact, I was mistaken; the US midfielder Claudio Reyna was the matchwinner who made Christmas 2001 feel all the merrier.

The exciting managerial spell of Peter Reid, who previously served Everton so well was as a player, was by then in decline. He had led Sunderland to a narrow escape from a humiliating drop to the third tier, two promotions to the Premier League as champions and two seventh-top finishes. Yet even in the first of those Europe-nudging campaigns, Sunderland had gone to Goodison and been walloped 5-0.

And the record since has been abysmal. Fourteen Everton wins, five draws and no Sunderland victories. There have been close encounters; Sunderland, though away from home, led in the first of the FA Cup cup games last season (Everton cruised to victory in the replay), were denied three points at the Stadium of Light only by that Osman-Webb meeting of deluded minds and played reasonably well in defeat at Goodison last November.

There have been less evenly matched games. In 2007, I almost turned off my mobile phone to stop goal texts coming to me on holiday in Vietnam (7-1 to Everton) and there was a 4-0 thumping a year ago.

So what will happen on Saturday? Everton, the woeful cup surrender to Wigan aside, have been playing well enough to make some believe a top four place is possible. There is more flair and goal-scoring talent in the team that PDC finds at his disposal.

Home advantage may count for a little, and Craig Gardner is eligible for selection again after suspension in case Sunderland are awarded a penalty, fairly or otherwise. My Everton interviewee went for a draw and said he'd sooner have seen the match played before those classy Stephane Sessegnon, Adam Johnson and David Vaughan strikes raised morale in Sunday's derby.

My forecasting skills are zero, so no predicted scoreline I offered would carry much authority. I would simply say that if PDC can keep the players' spirits high as they approach kickoff, and consolidate the post-Martin O'Neill belief that defending does not always need to be done so deep that attacks become laboured and rare, Sunderland could take one more important step towards safety.