Life suddenly seems better for Sunderland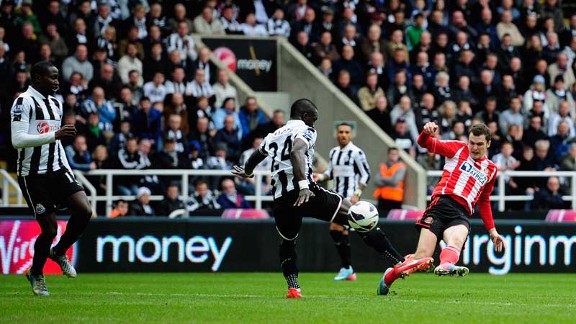 GettyImagesAdam Johnson fires home Sunderland's second goal against Newcastle
I was right and I was wrong. Sunderland did not win 9-1, as in 1908 (and no, I was not present on that occasion; I rely solely on the history books). But a 3-0 victory, momentous in terms of regional tribalism but more important still in the real world of top-flight football, stands about midway between wildest hope and direst fear.

Newcastle United 0-3 Sunderland. It is not a scoreline I remember from the many times I have seen Sunderland visit St James' Park, but it is one I could now cheerfully tap out on the keyboard all night long. Every football supporter lives for such results, all the more so when achieved over local rivals at an hour of greatest need.

- Krul blow for Newcastle
- Heneage: Tired Toon stunned by Sunderland

Many Sunderland fans with memories of some, or all, of the nine relegations endured since 1958 feared a tonking at the hands of Newcastle.

I entertained more optimistic thoughts but kept the more fanciful ones to myself, suggesting a draw was the best that could be expected, until deciding shortly before kickoff that Paolo Di Canio might just pull off a narrow win.

A magnificent team performance made that restraint seem perverse. Newcastle have been a better side all season. At virtually no stage of this one game did Sunderland seem other than head and shoulders above them.

And I am especially delighted to be able to focus on the positives of a display that could well be crucial in preserving Premier League status rather than on Howard Webb's string of serious first-half lapses that stopped the game from being pretty much decided by halftime.

Those positives? Three utterly sublime finishes, the first two owing so much to the final half-touches that Stephane Sessegnon and Adam Johnson applied before firing home their shots. The third, from David Vaughan but set up by the magical Sessegnon, was probably the pick of the bunch, the sort of strike children should be taught at school, but would rarely be able to replicate.

Sessegnon, full of imagination, skill and bustle, was by a clear distance the best player on the pitch. But Simon Mignolet made two vital, world-class saves from Papiss Cisse to protect the lead, bravely foiled Steven Taylor (more about him later) and generally confirmed the thought that here is one of the Premier League's top three or four goalkeepers.

Danny Rose showed pace, strength and skill throughout. John O'Shea was solid as a rock at the heart of defence. Johnson tormented the Newcastle defence with one of his best showings of the season. And the Newcastle-supporting Danny Graham did what Michael Chopra, in Sunderland colours, once couldn't by looking like a professional footballer capable of overcoming boyhood and family allegiance to do his damnedest to win for present employers.

Paolo Di Canio, currently benefiting from having to hear my views only on his footballing exploits, was a constant touchline inspiration to his team, the leaps, bounds and (innocently) thrusting arms at each goal matching the ecstasy of the away support high up in the stand. This was his first win as Sunderland head coach; I now feel he will savour at least two more before mid-May and remove fear of Championship football next season.

Back to Howard Webb. I consider him the best referee in England, one of the finest in the world. But his record in Tyne-Wear derby games is unimpressive. Having allowed Steven Taylor to hoodwink him into awarding an equalising penalty in 2009, he was unbelievably kind to the same player in this game.

First Sessegnon was denied a one-on-one with Tim Krull on the flimsiest of suspicions of foul play in escaping Taylor's attentions to set himself clear.

Then one of the most glaring shirt-pulls of the season stopped Graham having an easy chance to score. That was, arguably, also a sending-off offence.

Of Sunderland's other two first-half penalty shouts, one seemed beyond doubt and there was another in the second half. Add to that the benevolence shown to Yoan Gouffran after his atrocious challenge on Johnson, producing only a yellow card, and Yohan Cabaye for two tackles unpunished but worse than the one for which Rose was booked, and you have more than enough to offset the dubiously disallowed United "goal".

In the end, nothing depended on these decisions. A large part of the North East of England, and the far-flung Mackem diaspora, is delirious.

And the result means that with a bit of a late push by both sides, there will be Tyne-Wear and Wear-Tyne derby matches again next season. I just hope no club playing Champions League football had scouts looking too closely. Otherwise, those games could be played in the absence of Sessegnon and Mignolet.