Signs of hope but no points as Sunderland suffer at Chelsea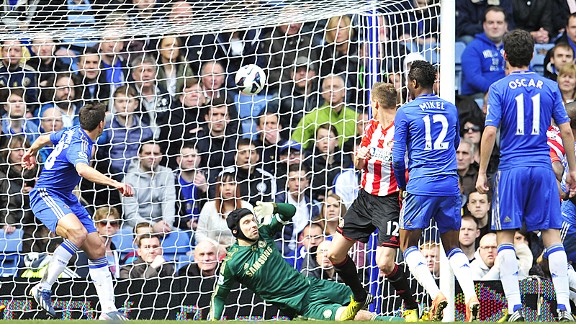 GettyImagesCesar Azpilicueta (l) can only watch on after sending the ball into his own net to give Sunderland the lead
Say what you like about Paolo Di Canio, ran one of the better jokes of the week about his appointment as head coach of Sunderland, but at least he gets the players to train on time.

Training sessions may well have become lively affairs if reports of PDC's demanding approach to management are correct. Perhaps the hard work had something to do with a much improved if, once again, losing performance.

- Lythell: Chelsea grind out vital
- Delaney: Chelsea and the Di Canio circus
- Di Canio expects long fight for survival

Chelsea 2, Sunderland 1 is a respectable enough looking scoreline against one of the best dozen or so teams in Europe and one of the strongest three or four in the Premier League. That it happened, in a good week for Chelsea and a bad one for Sunderland AFC, only because of two unkind deflections adds further slight consolation, for Sunderland supporters, to the defeat.

Unfortunately, more was needed in the light of a desperate predicament that leaves Sunderland, following Wigan's draw at QPR, just above the relegation zone to which the club has been making steady reverse progress in all but one game so far this year.

The matches do not immediately get any easier. Newcastle United away next Sunday is as tough as going to a Champions League side, because of the fierce local rivalries. Peter Reid was the manager on the past two occasions that visits to Tyneside produced derby day victories. That is followed by Everton at home and it is impossible to overstate the importance that could be riding on the outcome, especially when it is considered that this will be followed by another away game, at Aston Villa, just as they begin to show signs of being able to claw a way to safety.

Unless you are the sort of optimist who sees the final game at Spurs as just the occasion for a status-preserving away win, that leaves the successive home games against Stoke City and Southampton on which PDC's team needs to build on whatever can be squeezed out of the trips to St James' Park, or whatever it is currently accurate to call the ground, and Villa Park and the Stadium of Light match against Everton.

It threatens to be a close run thing.

Martin O'Neill may feel he has been unfairly treated, that he ought to have been given more time, that having a "tie that doesn't fit your suit" is these days enough to cost a football manager his job. He said as much to the BBC. He was right to say the club was on its knees when he took over in December 2011 and that he therefore deserves credit for preventing relegation last season.

But by the same logic, the club was again on in its knees by the time Ellis Short, the owner, finally lost patience, the common assumption being that this moment was reached after the limp surrender at Loftus Road on March 9. Who seriously believes O'Neill was leading Sunderland anywhere but the Championship? Who believes he would have brought home a better result than PDC managed from the trip to Stamford Bridge?

There were signs of commitment and urgency against Chelsea that have become rare indeed since Sunderland went to Manchester City last season and played so well that being held to a draw by a team heading for the Premier League title felt in the end like a heavy blow in the stomach.

It is true that Sunderland's goal also had fortune attached to it, Cesar Azpilicueta turning the ball into his own net after a John O'Shea flick. But Chelsea had two giant slices of good luck, when the hapless Matt Kilgallon saw a Simon Mignolet save hit his legs and hand the Blues an equaliser and then, eight minutes later, when Branislav Ivanovic diverted a David Luiz's shot past the Belgian keeper.

In the first half, especially, Sunderland had often looked bright. After going behind, they did so again, though Chelsea had chances to extend their lead.

It is frustrating to have to look for positives when losing but this is a game I would have expected Sunderland to concede more easily. I had hoped, without great cause, for a surprise victory and would have been delighted with a fighting draw. A narrow and noble enough defeat was my least requirement and that is what transpired.

PDC can feel vindicated in having fielded two full-backs, Phil Bardsley and Danny Rose, as full-backs, an approach that sometimes seemed unconventional under O'Neill. With Steven Fletcher injured, he played Connor Wickham up front whereas O'Neill might have persevered with his expensive, unsuccessful New Year signing, Danny Graham.

Having had my say about the appointment of PDC, I am maintaining my resolve to stick to football for now. Sunderland's plight means more to me than most things, even if it does not eliminate the need to defend personal values. From today, I take limited heart. The real tests of the Italian's ability to pull off a creditable escape are still to come and promise to be thoroughly nail-biting affairs.