Can PDC make his point at Stamford Bridge?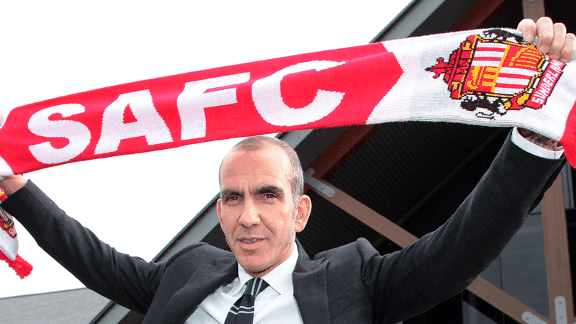 GettyImagesPaolo Di Canio has endured a turbulent first few days in the Sunderland hotseat
After one of the most extraordinary weeks in the life of Sunderland football club, it is back to the rather tricky business of trying to stay up.

Paolo Di Canio could have done with a somewhat simpler introduction to that task than taking his team to Stamford Bridge on Sunday. Any hope Sunderland may have drawn from Chelsea's ineptitude at Southampton last weekend was smartly swept away by the Blues' defeat of Manchester United in the FA Cup replay on Monday.

Sunderland supporters have often said that while their allegiance brings few glimpses of silverware - except after promotions which necessarily follow relegations - it is rarely boring.

That theory has been turned upside down this season, and in too many other recent seasons, by a brand of football that contrives to be very dull indeed without serious hint of being successful.

But the combination of dreary play and rotten results under Martin O'Neill ensured there would be a lively and tense end of the season even if a Trappist monk had been put in charge following his dismissal. And that is something the Sunderland supporter is accustomed to. His or her club, for the umpteenth time, is fighting to avoid the drop with the added piquancy of a list of remaining fixtures that brings no favours.

The dust is at last beginning to settle on the PDC appointment. I do not withdraw a word of my comments on Ellis Short's choice as his new head coach. Nor do I for a second expect my detractors here, whether they came with reasoned argument or lashings of green ink, to declare they're my best buddies after all. And after all the furore, we have a formal denial from PDC that he is a fascist.

So, far from being of not the slightest importance whether he holds or has held extreme views, it is recognised as an issue that needed to be addressed. We can make what we will of the denial; the poor man has been trapped either by his own words and gestures, or by words put in his mouth and gestures imagined. I am happy to leave it there.

Without controversy, football is just a game. Bob Newhart would have had the same difficulties explaining it to a Martian as he did when improvising Sir Walter Raleigh's report on the discovery and uses of tobacco to the East India Company. But I feel this particular controversy has run its course, even if others seek to prolong it. At Salut! Sunderland, I have turned the absence of the F-word into a virtue, welcoming contributions that move on from the politics and concentrate on the footballing aspects, also controversial, of PDC's arrival.

What matters now, to those who read these pages because they share my passion for Sunderland, is whether Di Canio can overcome his lack of managerial experience in the top flight - I nearly wrote "at the highest level" before remembering I was talking about my club - and secure 17th position or better.

In my lifetime, Sunderland have been relegated nine times. The first of those drops, in 1958, was also the first the club had experienced. The record prior to that was a proud one that included six top-flight league titles, even if I have been known to admit that three of them were won while Queen Victoria was still alive.

The pages of the local newspaper's Saturday football edition changed from pink to white in pallid shame when the trapdoor finally opened, ending 68 years of continuous participation in the old First Division. After a brief spell of "strange greeny blue" to quote a former editor, the healthier complexion was regained only when Sunderland climbed back six years later.

PDC seems fond of history so may have looked up Rob Mason's excellent and, for those who care, indispensable book, Sunderland: The Complete Record, and identified a precedent for his own challenge.

When Peter Reid arrived at Roker Park as temporary manager in 1995, he too had seven games to avoid relegation, in his case to the third tier. It was a close call but he managed it with three wins, starting with his first game in charge, and three draws.

I remember the unbearable tension of one of those matches, a 1-0 defeat of PDC's last club Swindon Town, as if the rain were still belting down on my head now. My younger daughter was there, insisted on standing ahead of me at the last barrier before the pitch and got wetter still. No wonder she ended up failing her father and supporting Liverpool.

Reid went on to win two promotions - yes, that means there was also another of those relegations - and successive seventh-top finishes in the Premier League in the exciting period, dominated by the superb attacking partnership of Kevin Phillips and Niall Quinn, that followed.

Few if any will expect PDC to have the same success with his opening game. In relatively recent times, under Reid and then Steve Bruce, Sunderland have won handsomely at Chelsea. There have also been emphatic defeats, a lot of them.

But while a 7-2 drubbing three years ago, when the seven could easily have been 12, appeared then to reflect the gulf between the two teams, it was followed a season later by one of the finest away performances seen in Premier League history. Nedum Onuoha, Asamoah Gyan and Danny Welbeck scored the goals and there was not a trace of flattery in the 0-3 scoreline.

No such outcome seems remotely likely on Sunday. PDC cannot even count on a goalscoring threat from Steven Fletcher, out with injury for the remainder of the season. It would be an outstanding achievement to leave west London with a point. But that is a measure of the task he has embraced. Points are desperately needed and Chelsea away is not the only tough game to come. There is only so much his powers of motivation and training ground skills can achieve with players who have been letting down their club and themselves for most of the season.

The key to Sunderland's survival prospects may be in the way those players approach this game, notably in the level of commitment they show, and whether they can produce a performance that restores a little self-confidence.

In words Di Canio will find familiar, I not only respect his desire to get on with football but wish him In bocca al lupo , even if the mouth of a wolf seems an odd place to find good luck.