Amid all the polemic, how PDC can hardly lose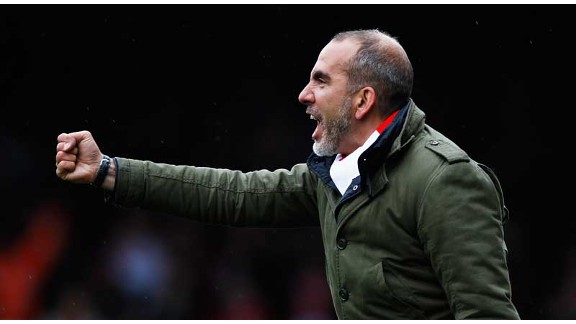 GettyImagesPaolo Di Canio is looking to ignite Sunderland's season
If any of my new-found readers should stray back to these pages in expectation of an apology for discussing the non-footballing aspect of Paolo Di Canio's appointment as head coach of Sunderland, they will be disappointed.

My view is straightforward enough: I dislike the appointment but my allegiance to Sunderland AFC rises above the doings of men fleetingly in charge of the club. Long after after Ellis Short ceases to be the owner and PDC has moved on, people like me will be still be there rooting for Sunderland as they have been for varying numbers of years.

The criticism of my relatively even-handed arguments is naturally accepted.

Some of it appeared to adopt the - dare I say it? - fascistic line that I have no entitlement to hold and express my views, whereas my article stuck up for Di Canio's right to his. Someone implied I was trying to deny others the right to criticise me, whereas the thrust of my piece was that, while I find fascism repugnant, I do not seek to stop fascists' right to free speech provided they do not incite crime.

I dish out robust criticism and am content to receive it back in equal or greater measure. Most of the observations I make are about football and attract a few comments here and there. Now I am attacked by a lengthy procession of commenting readers for writing on an issue that is not strictly about football, but deals with controversy arising from a footballing appointment. I did not create that controversy; it is absurd to pretend it does not exist and is therefore unworthy of discussion.

Others take far more strident views for and against my own position. One friend says he will hide away the Sunderland scarf I'd forgotten giving him for as long as PDC is in charge. The chairman of the Greater Manchester branch of the supporters' association has resigned, telling a newspaper he will not return until Di Canio goes.

On Twitter, I am rebuked for trying to steer the middle course of putting club loyalty above dismay at a corporate decision. And from some of the comments here, you'd think declaring support for fascism was a little like coming out as a cuddly social democrat.

It does not, incidentally, bother me in the slightest that David Miliband, the former foreign secretary, has resigned as vice-chairman of the club in protest. As I have already argued, that is a step I might well have taken, too, if I had any such position from which to resign. But Miliband is off to the United States in any case, leaving Parliament in the process. He was well rewarded for his limited involvement with the club and will hardly be missed. The principled stand is sincere, I am sure, but the rupture is also convenient.

The fact is that the winner in all this is, of course, Paolo Di Canio. He takes over a team bereft of confidence, playing some of the dullest and least effective football I have seen in far too many years of following Sunderland and looking good bets for relegation.

If, somehow, he saves the club from another spell in the Championship, he is a hero and Ellis Short a bold visionary. If they go down anyway, as I now suspect they will, it will all be Martin O'Neill's fault and Di Canio walks away, or stays in search of immediate promotion back to the Premier League, with head held high.