O'Neill pays the price as the dream appointment turns nightmarish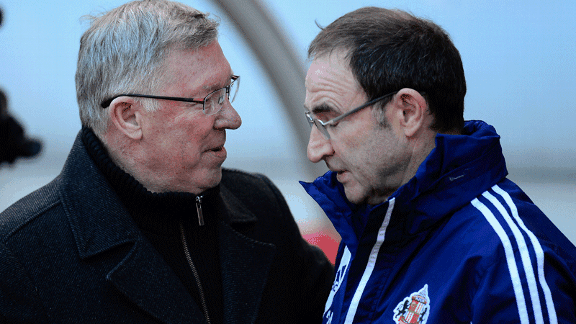 GettyImagesMartin O'Neill shares a word with Manchester United boss Sir Alex Ferguson after what turned out to be his final game in charge of Sunderland.
The decision is right. The timing seems crass.

No one would have been surprised to see Martin O'Neill sacked by Sunderland in a close season that can hardly come quickly enough. Whether the club stays up by the skin of the teeth or, as currently seems more likely, falls victim to yet another relegation, the dream has turned bad.

O'Neill's record as manager of the club he supported from Northern Ireland as a boy has been lamentable, save for that early, electrifying burst that more or less stopped last season descending into the sort of mess faced now.

- Struggling Sunderland axe O'Neill
- Randall: Sunderland slip deeper into trouble

Luckily, the mini-revival his appointment at the start of December 2011 inspired brought a decent enough haul of points to stop the subsequent slump proving fatal. But this season has been no better, despite the expensive signings of Steven Fletcher (£12 million) and Adam Johnson (£10m), and any manager who fails to record more than one victory of any kind in the first three months of the year knows he may be living, professionally, on borrowed time.

But for Ellis Short, the owner, to make the decision at this critical point of a woeful season, rather than waiting in hope of survival and taking the necessary action then, surely means one of two things. He has someone in mind as a speedy replacement, who possesses the powers of a magician. Or he is resigned to relegation being such a strong possibility that the interests of stability in such perilous times appear to him to count for nothing.

The club statement refers to an announcement on O'Neill's successor being made in the "coming days". In other words, someone is indeed lined up.

My own deeply held fear is that with just seven games left, the disruption caused by such a dramatic turn of events could rebound on the club or, put more neutrally, serve no beneficial effect. I hope against hope that I am wrong and will happily eat my words if Short's judgement turns out to be spot on.

As for O'Neill himself, I can feel little sympathy. Football, we can safely assume, has given him a splendid living. To a large degree, he has repaid the fabulous rewards available at the top of the game in his previous managerial stints, notably those at Aston Villa, Celtic and Leicester City.

To Sunderland he brought great promise and was welcomed by the vast majority of supporters with open, almost adoring arms. This was the man many of us had wanted to lead the club for a decade or more. Finally he was ours.

And when Seb Larsson's last-second free-kick secured three crucial points in O'Neill's first game in charge, all the misery into which the club has sunk in the latter stages of the Steve Bruce reign was swept away. Good results followed at QPR, at Wigan, at home to Manchester City and in other games. Safety was soon, if not ensured, made probable.

Sixteen months on, relegation poses a real and imminent threat. I said recently that the excuse that this was not really O'Neill's team had worn thin. Beyond Fletcher and Johnson, there were also Carlos Cuellar, Alfred N'Diaye and Danny Graham. And yet far from making progress, or even showing signs of doing so, the team had gone into reverse gear, dull to watch, bereft of imagination and lacking the least sign of punch.

For all that, my preference for continuity over the big bang persuaded me that Sunderland had no proper choice but to see out the season with O'Neill in the hope that, among those remaining few games, there are surely two or three from which the necessary points can be gained.

Short saw it differently. He has evidently taken a gamble on a hunch that whatever follows O'Neill can hardly be worse. The extent of that gamble is that whichever magician or motivator arrives in the Ulsterman's stead must now work with the same bunch of players who have failed so wretchedly until this disturbingly late point of the season.