A struggle to get out of jail that will not end with the Manchester United clash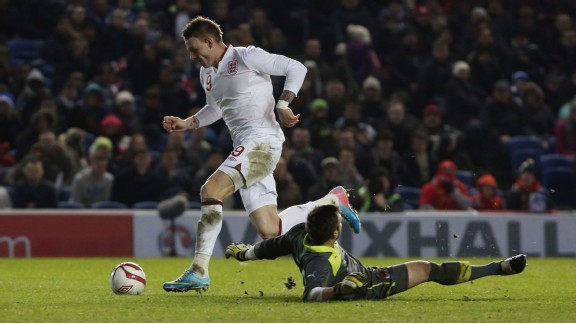 GettyImagesSunderland's Connor Wickham rounds the Austrian goalkeeper to seal a 4-0 win for England Under-21s during the international break.
At last a way has been found for a Sunderland supporter to enjoy the experience of winning.

It was a long and often frustrating search but one that ended in success at the Monopoly board game, or rather the Sunderland AFC themed variation of it.

- Graham backed to hit goal trail

Those of us who have played real Monopoly have all bought streets, railway stations and public utilities while hoping to bankrupt fellow players, with the range of properties stretching from the Old Kent Road and Whitechapel to Park Lane and Mayfair.

Chris Makin and Stefan Schwarz may be miffed to hear they're in the bargain basement of the East End and south London, costing just 60 units of Monopoly currency apiece. Niall Quinn and Jimmy Montgomery will doubtless find their habitats, Mayfair (400) and Park Lane (350) respectively, more agreeable.

Anyone playing this version of the classic game will be a Sunderland fan or taking part at the invitation of one and may be among others who are fans, too. So there is a good but not perfect chance that with dice, Get Out of Jail cards and make-believe money, a Sunderland-supporting board game enthusiast will do what the football players have managed only once this year and win.

But you would not put the value of Mayfair with stands and stadiums, the football Monopoly's answer to houses and hotels, on Sunderland grabbing a long-awaited victory on the field of play this weekend.

The mighty opponents are Manchester United. Now, Sir Alex Ferguson's team of 2012/13 has frequently looked a watery dilution of recent greatness. Yet they enter the game at the Stadium of Light 15 points clear at the top of the Premier League and look capable of winning each game they contest, whoever scores first, in a relatively poor top flight.

What is more, Sunderland have to mount their resistance without Steven Fletcher, whose goals stand as the difference between being in the bottom three and hovering, as is the case at least for now, just above. It would have been safe to stake that Mayfair property portfolio on at least one important Sunderland player being injured in the international break. It duly happened and Fletcher is out for the rest of the season.

As my colleague John McCormick has written for Salut! Sunderland, in a piece yet to be published, this is not quite the catastrophe it seems, for the less than reassuring reason that the Scottish striker had been off the pace in recent games anyway. "It is regrettable that our number one points earner will not be around for a while but, really, he already has been missing for a while," John writes.

That obliges Martin O'Neill to choose between his two other strike options assuming he feels that, having failed abysmally against lowly placed sides, 4-4-2 is hardly a recipe for avoidance of defeat against the runaway leaders.

Danny Graham has done little to impress, and also failed to score, since joining from Swansea City in the January transfer window. Connor Wickham's confidence - already, we can assume, in better shape than Graham's - will be high after a man-of-the-match display in England Under 21s' 4-0 victory over Austria. He has scored in cup games, on loan to Sheffield Wednesday and in his junior internationals though not in his few moments of Premier action this season.

I would play 4-5-1 with Wickham starting and bursting to impress, keeping Graham on the bench for later if needed. But I am not the manager and have no idea whether O'Neill's more expert eye will see things differently.

No one will be surprised to hear that I would take a draw, if offered now, and get on with enjoying an Easter weekend without tension and embargoed heartbreak. Elsewhere, I have loyally predicted a deeply improbable home win. I leave it to the reader to guess what I actually think is likely to happen.

But sooner rather than later, points are going to be needed in a demoralising season I only wish had already ended. If United at home does not produce at least a draw, what hope can realistically be held out for a non-losing result from the next game at Stamford Bridge?

That is followed by a derby at Newcastle United and these are encounters that can defy form. All the same, it amounts to a series of three games from which two or three points would seem eminently respectable without securing safety.

Then there are tricky games against Everton at home and Aston Villa away, each winnable but certain to be tough tests for a team that has looked not only lacklustre but lacking the least self-assurance for most of the season and especially of late. Emerge from the trials of Man Utd, Chelsea and Newcastle with heads held high, however, and the winnability factor is instantly enhanced.

It makes me cringe to think of the pressure that will be on O'Neill and his team if they find themselves rooted in the drop zone by the time Stoke City and Southampton arrive for successive home games in May.

For once, no one should need 40 points in order to stay up. Sunderland currently have a measly 31 but taking on Stoke with 35/36 in the bag would seem a viable springboard for self-preservation. If Sunderland cannot squeeze four or five points from the coming five matches, the task - football's equivalent of safely passing Go in Monopoly - will seem all the harder and no amount of bleating about a nasty run of games will deflect blame from where it properly lies.