United we stood: no comfort for Sunderland from weakened Old Trafford links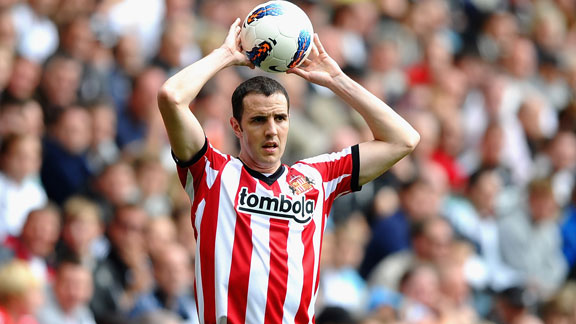 GettyImagesJohn O'Shea ended a 13-year spell at Man Utd when he moved to Wearside in 2011
A week to go to the next game and Sunderland supporters are divided into two camps, one much larger than the other if my suspicions are correct.

The opposition, just the sort of team you want to come up against when in drastic need of points, is Manchester United.

For a majority of Sunderland fans, it must be fair to say, this was one to be written off as a certain defeat even before worrying news of Steven Fletcher's injury on international duty as he and his Scottish team-mates lost to Wales.

That leaves an admirable band of optimists to humour themselves with speculation that, on this day at last, the players who have spent most of the season miserably letting themselves down, Martin O'Neill, the fans and the club will come good.

I wish I could join that camp and grab a glass half-full of my own.

Forget the pitiful, manufactured anger that some United supporters have carried forward into this season as they recall the Poznan-inspired celebrations at the Stadium of Light last May. Some Sunderland followers, it will be recalled, rejoiced as word filtered through that Manchester City had dramatically snatched the title from United's grasp in the last seconds of the season. Mildly amusing, mildly annoying if you happened to support United.

Sir Alex Ferguson may not currently have the finest squad he has managed but it is still romping away with the Premier League, with no reason to fear a late collapse to allow City another sneaky title. United players need no contrived incentive or desire for vengeance to beat Sunderland with relative ease at the Stadium of Light, as they did at home.

But can O'Neill, in his attempts to lead his team to unexpected glory against the champions-elect, place any reliance on Manchester United old boys producing the form of their lives for the occasion?

In days when Sunderland had Jonny Evans on loan in defence, or Danny Welbeck sharing goalscoring honours with Darren Bent or Asamoah Gyan, the answer would have been maybe. Their time on Wearside is now little more than a fond memory. The men who have made the journeys across the Pennines for more permanent stays have done little to suggest they can be judged in the same light.

John O'Shea has at times shown his worth as a solid, disciplined and inspiring defender. This has not, however, been his best of seasons and his passing, always dodgy, has reached new levels of waywardness. Wes Brown is slowly making a long-awaited return from injury, but would presumably be risked so early in his comeback only if the alternatives filled O'Neill with terror.

Phil Bardsley, an honest and likeable toiler but limited as a Premier League footballer, has featured little this season. Kieran Richardson has gone; Louis Saha came but was barely noticed before he left, too. I almost forgot Dwight Yorke's 50-plus appearances and Andy Cole's fleeting end-of-career cameo. With or without the Poznan dance steps, the connections between the two clubs, also represented by the managerial spells of Roy Keane and Steve Bruce, have loosened considerably.

There is a mantra in football that suggests those found surplus to Sir Alex's requirements at Old Trafford become half the players they seemed to be for United once they leave.

But the theory falls down when Evans and Welbeck's work for Sunderland is considered. It cannot seriously be applied at all to players who are sold as stars - witness Cristiano Ronaldo's form, even in a period of reported professional unhappiness, at Real Madrid - and I am sure there are supporters around England who are pleased with the efforts of their United old boys.

No real reason exists for any former United man worth his salt, who find himself involved in next Saturday's early kickoff, to play less well than he might have done for his former employers. But he can do little about the players around him. There remains the pressing need for those who can but dream of playing for Sir Alex to raise their game by so many notches that they risk altitude sickness.

I was present on each of the last two occasions that Sunderland defeated United at home, or indeed anywhere, by 2-1 scorelines both times. One was a League Cup win in 2000 when Kevin Phillips - how Sunderland could use his goalscoring prowess now - scored the winner from a penalty.

The last league win was even longer ago, a gallant victory in Roker Park's final year, 1997. Living in London, I had to take a cab on arrival back at King's Cross. The driver, a West Ham supporter, said: "Well done, mate, but you're still going down." I do not want anyone to think I'm so worried about history repeating itself that I would be unhappy with an improbable three points next Saturday. But the cabbie was proved right.