Time for leadership and passion as Black Cats face dark hours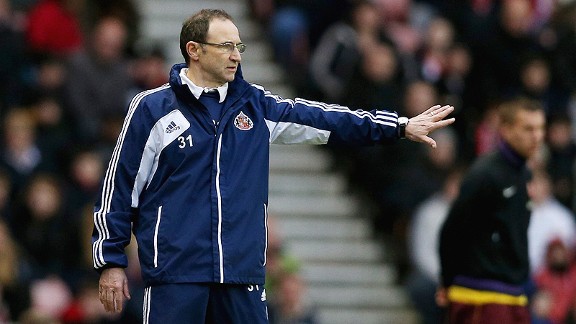 Clive Brunskill/Getty ImagesQuestions are being asked of Martin O'Neill as Sunderland stumble on
Anyone who gets involved with his or her football club to the extent of running a fanzine or fan site knows the score. The venture will be treated by that club with at best polite dismissiveness, at worst hostility and suspicion.

- Vaughan: Sunderland under pressure

This may not be a rule that is cast in stone. I know of at least one club, Wigan Athletic, that is so embracing of its fan base that it regularly invites fan site editors to informal meetings even when times are hard, as is often the case.

But while I could list a few slights endured by Salut! Sunderland at the hands of Sunderland AFC in its most corporate of moods, I do not suppose for a second that the club is any worse than most others.

One compensation, if that is what it can be called, is the sense of absolute freedom such modest, labour-of-love enterprises feel when parading their thoughts about what is happening on and off the pitch.

In practice, even this liberty is exercised with restraint because, at heart, supporters are supporters and they wish to inflict no harm on the object of their passion. Sometimes, however, events test that willingness to act for the common good. It is difficult to imagine any situation presenting a greater test than the current threat of relegation that hovers over this proud but profoundly underachieving club.

Which logically brings us to the chorus of negative assessments of not only the currently incompetent players of Sunderland but their manager, Martin O'Neill, whose job it is to lead the club out of crisis.

With no collusion, but more or less simultaneously, both Salut! Sunderland and another Sunderland fan site, Roker Report, have produced long, thoughtful articles calling into serious question O'Neill's stewardship of the club he supported as a boy in Northern Ireland and we, the publishers of these sites, support more or less as a way of life. One contributor tweeted that it was very nearly a "Popesque moment", deserving of puffs of smoke (the appropriate colour of the smoke being open to debate).

At Roker Report, Simon Walsh wrote of the strange lack of outward signs of commitment and desire that made watching Sunderland failing to beat, or even dominate, 10-man opposition (Norwich City) so wretched an experience on Sunday.


"If there's no fight on the pitch, you can put it down to the players but O'Neill isn't without blame. If they won't roll their socks up and realise that this is a make-or-break game then why didn't O'Neill let rip and let them know this? Because they certainly didn't appear fired up in the second half. I'm sure O'Neill would counter this with "I did, they just didn't do it" ... Again, if the players can't or won't listen to the manager then we've very serious problems.'


His piece was headlined "Falling Out Of Love With Martin O'Neill", a title that is as damning as it would have seemed unthinkable not long ago.

Perhaps in more measured tones, but with a similar underlying message, Salut's Pete Sixsmith - a man who has followed Sunderland home and away for half a century and has a thorough understanding of football - resurrected views that sounded mildly controversial when he first raised them earlier in the season but are now unremarkable:


"I asked here a few months ago whether the manager could cope with a return to a high pressure job after two years out of the saddle. All the signs indicate that he can't. He looks tired and drawn and as if he has run out of ideas. What worked at Leicester, Celtic and Villa does not work at Sunderland.

Is it easy to change ideas and habits? It is not. As you move through your 60s you are more inclined to fall back on what worked in the past, even if it is not what people want now."


No one, or at any rate no one with an ounce of common sense, is suggesting that a sudden managerial change would resolve Sunderland's present predicament, which can be understood most easily by ignoring the four-point gap between 15th and 18th and glancing instead at the list of forthcoming games.

This, for Sunderland, starts with Manchester United (h) and leads into Chelsea (a), Newcastle United (a) and Everton (h). Stand up the optimist who predicts even two points from that cluster, but also spare a thought for the qualified pessimism that allows for the possibility of spectacular one-off performances producing 3-0 at Stamford Bridge or a sneaky home win against Man Utd.

Ominously or not, doubts about O'Neill have spread from the mischief-makers of the blogosphere to the mainstream press. I have referred in the past to the need for local media to be on something approaching best behaviour when reporting day after day on the clubs on their patch. I have no first-hand knowledge of the way the process works but enough of journalism in general to suspect that heavy "lay off the manager" or "we need you to remain on-message" hints are being dropped, or at least rehearsed.

But even the imperative of getting on with those you deal with has been shaken. Neil Cameron writes for The Journal, admittedly a Newcastle-based newspaper but one employing football reporters no less conscious than their confreres on the Sunderland Echo of the wisdom of keeping diplomatic channels open.

In a depressing before-and-after look at O'Neill's demeanour, Cameron describes an alarming transition. Before: a man who kicked every ball though confined to the technical area, whose interviews were "spiky or funny and never less than highly entertaining". After: one "who doesn't believe in his players and is unsure of what to do to sort out the mess he finds himself in"


"There seems to be little passion left in the 2013 version of O'Neill. His quotes recently have been from a man who doesn't believe in his players and is unsure of what to do to sort out the mess he finds himself in.

His wicked humour has deserted him. After the 1-1 draw with Norwich on Sunday, another appalling home performance, he managed a few paragraphs of quotes with no real explanation as to why his team couldn't beat ten men. O'Neill looked awkward in front of the press, when in days gone the pack were left hanging on to his every word.

A mournful O'Neill spent his Friday pre-match press conference talking down the team, claiming they lacked 'real true ability' and that he always knew it would be a tough season."


The fan in me wants egg on the faces of the writers of all those gloom-ridden pieces. That fan wants the players to react to a goal as if they cared, not by simply trotting back to position as happened when Craig Gardner converted the equalising penalty on Sunday.

That fan wants O'Neill to be able to glower at all the moaners come the end of the season and say: "I could have told you so even if I didn't."

But he also needs the kind of inspiration that comes from neither bold words - not that there is an abundance of them just now - nor plucky defeats against the coming elite, but from genuine leadership from O'Neill and a combination of guts and results from his team.