Not even the luck of the Irish can steal Sunderland a win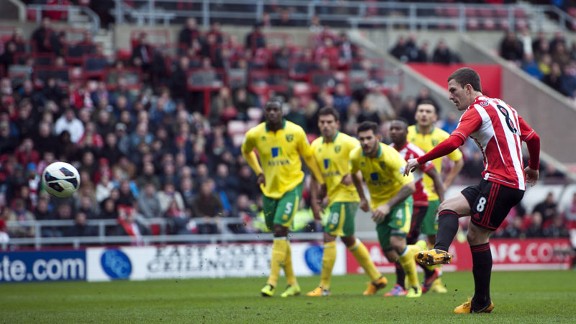 GettyImagesCraig Gardner scored Sunderland's equaliser from the penalty spot
On St Patrick's day 40 years ago, Sunderland had to beat modest opposition, Luton Town, to reach the FA Cup semi-finals and did so in front of 53,000+ people at Roker Park, taking another step towards an exhilarating afternoon at Wembley.

- Davitt: Norwich heroism carries the day
- Heneage: Handy decisions helps Black Cats

Fast forward four decades, Roker and that Wembley stadium are gone and, by common consent, Sunderland needed to beat modest opposition, Norwich City, in this season's customary battle against relegation. The ghost of St Patrick did his best, arming his countryman, Martin O'Neill, with a fair slice of the luck of the Irish - and a 38,000 crowd to roar on his team - but to little avail.

It ended Sunderland 1, Norwich City 1.

That it could have been a good deal worse is beside the point. The minimum requirement from this game was the maximum available, three points. With no intended disrespect to the Canaries, they are not Chelsea or Manchester United and Sunderland's next opponents are. Follow that with two further games from which points may be scarce, Newcastle United away and Everton at home, and it is not difficult to see what sort of fix O'Neill and his often lamentable players - and they were lamentable today - have placed themselves in.

This was a season when Sunderland were supposed to be moving upwards. O'Neill's first full season in charge, it was hoped, would allow him to improve on last May's disappointing finish of 13th, three places lower than the much-criticised Steve Bruce had managed a year earlier.

He bought Steve Fletcher and Adam Johnson, brought in Danny Rose on loan and Carlos Cuellar for free and even managed to persuade Stephane Sessegnon to stay. In January, he added the purchase of Danny Graham. The excuse that this is not his team has thus worn thin. And what has happened? One dreary, ineffectual display after another leaves that team hoping at best to scramble clear by a wafer-thin margin.

The game against Norwich followed a pattern that was, in part, predictable; it was wholly familiar. For all the bold pre-match build-up, it was Norwich who went ahead, when poor defending allowed Kei Kamara to head the ball goalbound and Wes Hoolahan help it into the goal.

The first stroke of good fortune for Sunderland came four minutes later when the referee Chris Foy sent off the City keeper, Mark Bunn, for handling the ball outside his penalty area. It took another 14 minutes for Sunderland to gain an equaliser. Sebastien Bassong was judged to have controlled the ball with a hand and Craig Gardner converted the penalty firmly enough.

Surely Sunderland would wear down the 10 men of Norwich in the second half and end up comfortable winners. Long-in-the-tooth Sunderland supporters, accustomed to chronic suffering inflicted by men in red and white stripes, know better than to rely on such logic.

Norwich probably had the better of the second half and would have won had Danny Rose seen his own handball just inside the box lead to a penalty instead of a freekick or Grant Holt not been let down by a poor first touch after a mistake by Titus Bramble put him clear on goal.

No soothing words from O'Neill, assuming he finds them, will alter the reality of a grim performance that barely even deserved the crumb of a single point that it received. On this evidence, and that of Loftus Road, the Madejski, two dismal cup exits and all the preceding damp squibs at the Stadium of Light or away from home, O'Neill has Sunderland in reverse gear.

As for Saint Patrick, I might have guessed he would not bring Sunderland quite enough luck. In the bar on the Cote d'Azur where I found a soiree irlandaise one night early, the musicians were French and their instruments Scottish bagpipes, not the uilleann pipes of Ireland.

The big television was silent but L'Equipe's channel was showing the day's results, including Stoke City 0-0 Wolverhampton Wanderers. It was never corrected to WBA. The threat is growing that the only way Sunderland can avoid a need to visit Molineux next season would be for Wolves to go down another division.