Footballers Behaving Well must apply on the pitch, too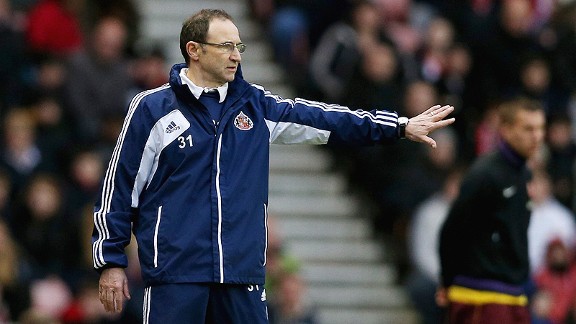 Clive Brunskill/Getty ImagesFurther stumbles from Martin O'Neill's men could make for a nervewracking spring for Sunderland supporters.
When Sunderland footballers had warm weather training and a bonding break in Dubai, sensational reports filtered back to the United Kingdom that the squad behaved in exemplary fashion. QPR players, meanwhile, were said in a much less shocking Daily Mirror story to have treated their visit as if it had been a stag party.

Harry Redknapp later dismissed the second story as rubbish, cooked up by an unnamed agent intent on stirring up trouble and destabilising the team.

I may have missed an indignant denial from the Stadium of Light of the damaging suggestion that Martin O'Neill's were models of professional discipline and restraint. Bearing in mind QPR's back-to-back wins, one at the expense of Sunderland at their most infuriating, we all know which team appeared to benefit more from however they conducted themselves on the Middle East sojourn.

- O'Neill: We're still in a scrap

Now comes another story of Sunderland players not behaving crassly.

The Daily Mail informs us that O'Neill has banned his squad, 15th bottom and sliding towards the relegation zone after a dire run of five games without a win, from a jolly little trip to Cheltenham races.

This time, the club did step in to correct any misreporting, insisting that the players took the decision themselves.

Now if other components of the Mail's tale are correct -- notably that those planning to go had chipped in a total of £50,000 to pay for helicopter travel of accommodation -- that strains belief.

But we must give the benefit of any doubt to the club and accept at face value the suggestion that grown men would prepare a jaunt in such detail only to change their minds without hint of managerial arm-twisting.

Does any of it matter? Yes, but only in the sense that the smooth working of modern society seems to depend more and more on effective public relations. Football clubs are no different in this respect from other businesses in wanting to present the cleanest and most well intentioned face to the public at large, in particular that part of the public on which their income depends.

Sunderland AFC can hardly be unaware of the angry murmurings from fans so fed up with another season of joyless and unsuccessful football that they are questioning whether to renew season tickets come the summer. Loyal home-and-away supporters, whose input of effort on matchday sometimes seems vastly superior to that of some players, are already picking and choosing between expensive trips to watch the team play. One lifelong follower known to me says he will wait to see what happens in the close-season transfer dealings, and you can take it as read that he has in mind "players out" as well as in.

I am not yet among those braying for O'Neill's head. It would be sheer folly to replace him at this delicate stage of the season, as I hope and believe will be demonstrated in the case of Reading after the shabby dismissal of Brian McDermott.

But there must be a serious question mark over his long-term future at the club. On poor days, which have been many, the team appears shapeless. Sloppy goals are conceded, winning positions surrendered, opposition goalkeepers unthreatened and substitutions often bewilder.

In fairness, the one man who is capable, match after match, of scoring is one of O'Neill's recruits, Steven Fletcher. His goals have been bought expensively but wisely. But who else among the men brought in by the manager, and I necessarily include the highly disappointing Adam Johnson, has improved on Steve Bruce's squad? The true answer is "only Danny Rose", and injury has meant that we have seen all too little of him.

It cannot be said too often that Sunderland will always struggle to compete with London and the North West, and probably everywhere else, when it comes to attracting established talent. Roy Keane, when manager, identified the "WAG factor", players who were unduly concerned about whether their wives and girlfriends might on balance prefer Bond Street and Knightsbridge to the Bridges shopping centre.

But Newcastle United, and in the past even Middlesbrough, have found it less difficult to persuade stars to make the move, albeit for shorter spells in many cases than the clubs would have liked. If that persuasion can only be effective in financial terms, Sunderland's owner Ellis Short must either bite the bullet or settle for the likelihood of an uphill battle each season.

Could the scouting setup, and in particular the overseas network, be improved? Are there not players overseas, young enough to regard any Premier League opportunity as attractive, who would offer a better option than the present uninspiring mix of homegrown players and imports who have been in Britain for some years?

Of course, the challenge becomes greater still if, heaven forbid, Sunderland complete the descent from mid-table comfort to actual relegation. I have already indicated how tough it will be to gain points from the coming six matches: Norwich at home on Sunday has become an absolutely must-win game, even by the standards of that overused phrase, but is followed by Chelsea (a), Manchester United (h), Newcastle United (a), Everton (h) and away to an Aston Villa team also fighting for their Premier lives.

It is all very well saying that these games are followed by Stoke City and Southampton at home and also that Sunderland have a long history of confounding expectations, bad as well as good. But I would not greatly fancy the club's chances in either of those games if they came at the end of another dismal, demoralising run.

The best that can be said is that no one is likely to need the traditional 40 points to be sure of survival. I still think Sunderland will just about retain Premier status for a creditable seventh season.

But the "what if?" scenario is chilling. For every fond memory of invigorating seasons watching Sunderland romp to promotion is the nagging reminder that unless a return to the top flight is achieved as immediately as was done by Newcastle United and West Ham, the financial and footballing implications are ominous.

At Salut! Sunderland, I have an unwritten house rule that criticism, especially of the sharper kind, should be replaced by encouragement as games approach. Serial under-performance has made this a difficult rule to observe, let alone enforce on other contributors.

But in the spirit of collective interest, I will end with as rousing a "Ha'way the Lads" as I can muster in the hope that being denied a day at the races does not affect the players' resolve to do what every one of them knows must be done on Sunday afternoon.