Sunderland surrender to QPR with football to drive a saint to drink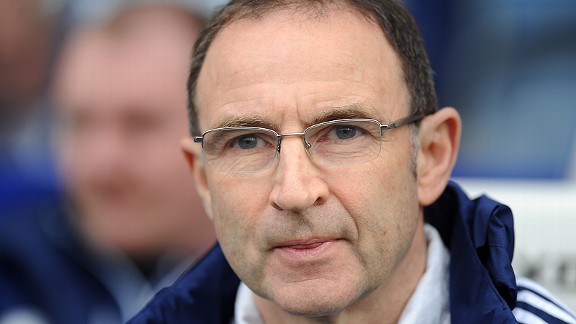 Charlie Crowhurst/Getty ImagesMartin O'Neill's Sunderland had no answers in their 3-1 loss to QPR.
The discontent among Sunderland supporters was palpable long before two fine volleys gave a realistic look to the outcome of a game Queens Park Rangers won with ease despite being little better than their perilous position in the Premier League suggests.

Queens Park Rangers 3 Sunderland 1. Not even by summoning every scrap of passion and partisanship in my body can I quarrel with that result.

- Match report: QPR 3-1 Sunderland

The fans, whose tweets grew increasingly venomous as the match wore on, were right to be disgruntled. This was a lamentable performance, bereft of defensive composure, midfield strength, creativity or attacking punch. As the logic of my opening sentence implies, it amounts to a level of football worthy only of the Championship.

If I had not possessed this passion for so long, I would find it beyond belief that a team with such names as Simon Mignolet, Stephane Sessegnon, Adam Johnson, John O'Shea, Seb Larsson and Steven Fletcher in a starting lineup would bear close resemblance to the Sunderland sides that went down with 15 and 19 points in the uncomfortably recent past.

In reality, it is entirely believable precisely because of that experience, a long endurance test that inspires one particularly bleak thought: Putting Lionel Messi in red and white stripes would turn him overnight into a moderate player or worse.

With the exception of Sessegnon, in fleeting glimpses, it is difficult to identify a Sunderland player who rose above a rating of five out of 10. The fabulous travelling support -- and they had to rise above resentment at the disgraceful QPR ticket prices -- were quite simply cheated.

After a moderately bright start, Sunderland quickly surrendered ascendancy to QPR, who followed what must have been Harry Redknapp's shrewd advice to get the ball out to the wings where Junior Hoilett and Andros Townsend could terrorise Craig Gardner and Jack Colback, midfielders playing as fullbacks. Two fullbacks, incidentally, were sitting on the bench.

Much against the run of play, and with a rare slice of quality, a stirring breakaway saw Fletcher set Sessegnon away with a clever backheel. The Beninese midfielder found Johnson after some magical work on the right and his hard, low cross -- or was it a shot? -- was clinically met by Fletcher.

Danny Graham, utterly anonymous since his costly move from Swansea City, missed a reasonable chance to add to the lead, but another breakaway, this time QPR's, brought the equaliser. A characteristically poor pass by John O'Shea was easily cut out and, after the flowing move that followed, the Irish defender was unfortunate enough to have the ball deflect off him to the feet of Loic Remy, who finished well. Do players make their own bad, as well as good, luck?

Another promising spell for Sunderland at the start of the second half came and went without hint of a clear chance, or any chance at all, being created. A corner by Johnson, who often struggles to get a cross past the first defender, for once gained height. Unfortunately, that height was achieved just behind the goal.

And on 70 minutes, QPR went ahead.

From a dubious free kick on the right, the cross was punched out by Mignolet. There was the suspicion of a foul on the goalkeeper -- Mike Jones, the referee, cannot be blamed for Sunderland's woeful display but did seem to spot infractions more readily when the real or supposed victim was in hoops -- but there were no doubts about the quality of the looping strike from Andros Townsend, on loan from Tottenham Hotpsur.

This led to a degree of urgency from Sunderland but not in the sense that anyone would have mistaken them for a team that looked like scoring.

And 10 minutes after QPR's second goal, another refugee from White Hart Lane inactivity, Jermaine Jenas, produced a stunning volley to match Townsend's, also from outside the penalty area and the game was effectively over.

What Martin O'Neill does next is anyone's guess. Successive games must have shown him that 4-4-2 does not work when Graham, in the form he has shown so far, is one of the two. Larsson does not work in central midfield, Alfred N'Diaye did nothing to dispel the notion that his true level may be beneath the Premier. Sessegnon apart, few showed command of the most rudimentary techniques.

Titus Bramble popped up on local radio in the North East after the game, talking meaninglessly about the collective need to "get back to basics" and "put in a shift". Three of the next four games are against Chelsea and Newcastle away, Manchester United at home. Given a general sense of despondency about them producing more than a single point, Bramble's basic shift had better pay off against Norwich City at the Stadium of Light next weekend. Otherwise, relegation becomes a more serious threat than many, even now, suppose.

A post-match tweet from "Lisa" said supporting Sunderland and being teetotal was a tough combination. As it happens, O'Neill had talked in midweek about the welcome decline of football's drinking culture. He was not quite right; watching Sunderland might drive anyone, in time even Lisa, to drink.