The Magic Roundabout of coincidence
A Sunderland supporter's proud tweet about obtaining an interview at her university of choice instantly took me back 13 years to the start of what became a tale of football, coincidence and both sides of the law.

Right at the beginning of 2000, I met a man on holiday in Peru who turned out to be a judge. He had studied at the same university to which my electronic acquaintance hopes to go. I will not identify its location beyond saying she faces, if successful, some long trips to games at the Stadium of Light.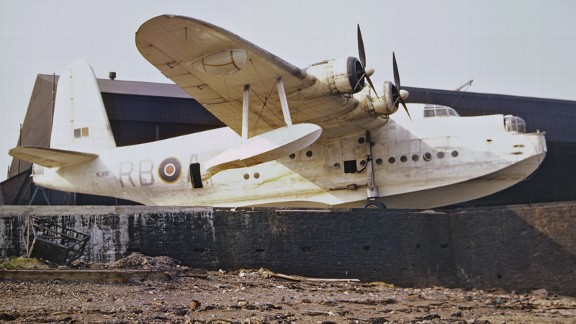 GettyImagesA Short Sunderland flying boat (It's the best we could do - Ed)
Now the judge thought I was pretty cool because on the day of our group's homeward bound departure, I let everyone else take the tour company bus and stayed behind in the hotel to watch Sunderland v Leeds (in Spanish and therefore incomprehensible to me, though not to my football-weary but linguistically accomplished wife).

Experience has enabled me to understand defeat in many languages, however and, even without the pictures, it would have been possible to work out that Sunderland lost 2-1, to a team called Leeds United that some Premier League supporters may remember. The wonderful Kevin Phillips scored the Sunderland goal with the same priceless instincts that brought him three for Crystal Palace this week, just a few months short of his 40th birthday.

Match over, familiar disappointment in the heart, I raced to the airport by cab.

My fellow-holidaymaker and I were to become firm friends. I came to think of him as cool, especially for a judge, because he shared my obscure musical tastes: Bert Jansch, John Renbourn, Sandy Denny and the like. And as well as being fond of football and folk music, he had a most unjudgely T-shirt showing a boy aiming a peashooter at a car and bearing the questionable slogan "Lee Harvey Oswald aged three".

In one of life's bizarre coincidences, it also turned out that we had a Sunderland-supporting friend in common. When I described this mutual friendship at a website some years ago, I began by asking: "Heard the one about the university drinking pals who went on to become a judge, a headmaster ... and something else?"

Dylan, as I call the judge (he loves the pseudonym), insisted before we boarded our flight from Peru that we should keep in touch once back home.

A few months later, Sunderland were playing Dylan's team and we were invited to stay the night. Along with the invitation came a cheeky request for me to acquire match tickets.

What, I thought, is the point of being a judge if you cannot get into football games more or less on demand?

But I had another friend who was a master procurer of tickets and it wasn't too difficult to obtain a spare, the only potential snag being that it was necessarily for a seat in the Sunderland end. My friend promised to behave himself and sit on his hands in silence if his lot scored, which inevitably they did (Sunderland didn't).

Back at his place, my wife asked if I had seen any of the usual crowd at the game. Yes, I replied, Dougal the headmaster was there, a couple of rows behind us. Dougal is not his real name, of course, but let's maintain the Magic Roundabout theme.

"Dougal," exclaimed the judge. "Is that a common first name in the North East? One of my best pals at university was called that."

It was indeed Dylan's Dougal. The pair had more or less lost touch as one rose in the legal profession, the other, via at least one other career, in teaching. When we said goodbye next day, I promised to tell the headmaster of the coincidence.

As I explained it to Dougal the next day, his own memory sped back to some of their boisterous, drink-fuelled undergrad nights. "There were three of us, you know," he said. "The other one was 'umphrey from 'astings. We were always together."

Now in the case of 'umphrey, who maybe should have been called Zebedee, the name has been changed to protect not the innocent, but the guilty.

The guilty? What had become of 'umphrey?. "Oh, he's in prison," Dougal said. Something to do with drugs.

"But has he learned his lesson?" I wondered. "Only," my pal replied, "to the extent of being absolutely sure he won't get caught next time."

From her profile at Twitter, I believe the would-be entrant to the same seat of learning may well be hoping to study law, too. I wish her well, while offering the advice that she really should stick to work, and cadging lifts to the North East, and avoid the company of anyone who wishes to become a judge, headmaster or drug trafficker.