Sunderland defy Fulham but with too much bluster, not enough quality, to win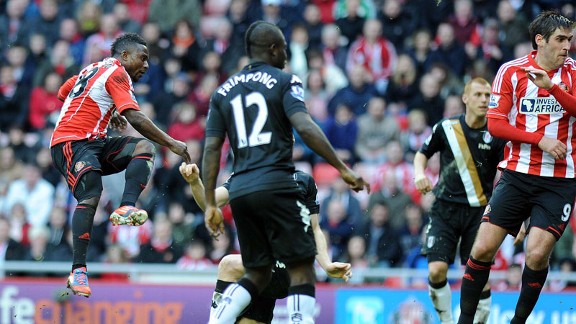 PA PhotosStephane Sessegnon scores his side's second goal to grab a 2-2 draw
After six days of rain, glorious sunshine made a walk along the rugged coastline a delight. That was in the south of France. From Sunderland came news of fine weather in the far north of England, too. On such a pleasant day, what could possibly go wrong?

- O'Neill pleads for consistency

Craig Gardner had an early answer to that question: with one fairly idiotic challenge on Ashkan Dejagah, he conceded a penalty for the second successive week. Yes, Dejagah's fall owed more to gratitude than involuntary response - he did what professional footballers are paid, and probably trained, to do - but the contact could hardly have been clearer.

From that deeply unpromising start, the match ended Sunderland 2-2 Fulham.

It felt at the close of play like two points lost rather than one salvaged, but had taken a remarkable recovery in a game that seemed to have been surrendered.

In truth, the upbeat tone of my pre-match text message to the Stadium of Light had lasted no longer than the few minutes it took my friend to reply. Good weather on Wearside, when it's still meant to be - and has lately been - wintry, was the last thing I wanted to hear. I'd counted on a shivering afternoon Oop North for which namby-pamby southerners would have no taste.

But it was the glove-wearing Dimitar Berbatov who stepped forward to convert the foolishly conceded penalty as nonchalantly as if he were enjoying a leisurely stroll by the Thames.

Then, from a strong attacking position, Sunderland produced the sort of back-pedalling defensive horror show that has blighted the season. A simple, direct but also unchallenged move on the break ended with Sascha Riether able to tap home after Simon Mignolet could only push Dejagah's cross-cum-shot into his path.

At that moment, the two Sunderland supporters who had earlier exchanged such cheery messages about the weather were contemplating jumping into the sea, the Med in one case, the cold North Sea in the other.

Fortunately, the players dug themselves out of the desperate mess into which they'd landed themselves. Gardner is as dependable in thumping home penalties as he is a liability in his own box and scored in style when the referee, Mark Halsey, spotted Philippe Senderos's sly tug on Danny Graham's shirt. A card of one colour or the other would have been a logical accompaniment to the penalty award, but Halsey was in charitable spirits.

So, from being on the ropes on 35 minutes, Sunderland were back in the game before the clock reached 37. But there was little evidence in what remained of the first half that the comeback would be made complete. Sunderland looked vulnerable whenever Fulham attacked and rarely offered more than bluster at the other end.

As has happened regularly this season, however, Martin O'Neill's team began to look more cohesive and menacing after the break. But after a bright start to the second period, Graham's bad miss from an excellent position was followed by another spell of Fulham possession.

The outcome turned on what happened in the space of a minute just after the midway point of the half.

Berbatov found himself with an even simpler chance than Graham's after Bryan Ruiz's sublime pass landed at his feet. Mignolet, who earlier in the week felt obliged to correct mischief-making comments from his agent about having his sights set higher than Sunderland, saved brilliantly with his feet and a sweeping breakaway move started and finished by Stephane Sessegnon brought the equaliser.

With 20 minutes left, the crowd - and the Fulham players - sensed Sunderland had every chance of going on to win. What stood between the home side and victory, if we discount at least three cynical fouls in key locations (I actually heard a television summariser call one of them a "good foul"), was the lack of a penetrating final ball and the absence of the sort of service such strikers as Steven Fletcher crave.

James McClean, freshly detached from Twitter and maybe, just maybe intent on building bridges with exasperated fans, came on as a substitute and showed more threat on the left wing than had been seen from Adam Johnson, whose encouraging approach work is too often ruined by poor crossing.

But a third goal would not come. A former Sunderland player, Gary Bennett, now a local radio matchday pundit, summed it up to perfection: "A workmanlike performance that was lacking quality."

Sunderland had certainly done enough to deserve the draw and arguably merited a victory to ease gathering relegation nerves.

But then, as the wretchedly small band of travelling supporters may retort, I would say that.