What's to be done about James McClean?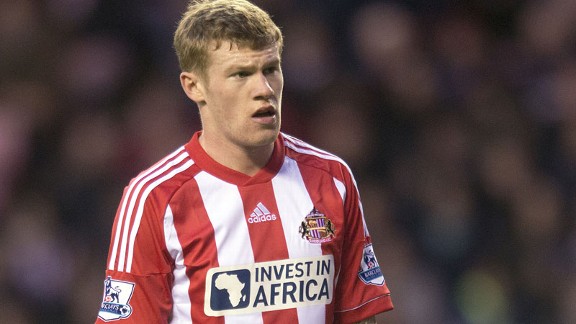 PA PhotosMcClean has largely failed to replicate the form he showed during his first season in the first team
Twice this season, I have sprung to the defence of James McClean over manufactured rows of the sort that Ireland, north and south, does so well and Britain enthusiastically develops.

Until now, I had no pressing desire to say a word about the latest controversy, aroused by the Sunderland winger's tweet declaring a liking for a song by the Irish rebel group, the Wolfe Tones.

But now, from the Irish Independent, comes the suggestion that much else is wrong between McClean and his club and in ways that, to me, matter a whole lot more than the classic choreography of tribal grievances.

McClean may be interested to know that another son of Derry (neither would dream of calling it Londonderry), the former IRA leader Martin McGuinness, now deputy first minister in the power-sharing government of Northern Ireland, used to denounce that newspaper as a "West Brit rag" for its failure to embrace the republican cause. To make it worse, the piece in question is an item syndicated by The Daily Telegraph, which we may assume is not McGuinness or McClean's newspaper of choice.

But I have no reason to doubt the report's accuracy in describing a state of affairs that calls into question McClean's suitability to be employed much longer by Martin O'Neill and the club owner, Ellis Short.

The article begins by informing readers that the player has been fined two weeks' wages for the tweet in which he acclaimed a song titled "The Broad Black Brimmer," about a boy whose father is killed fighting for the IRA.

As it was McClean's third breach of club rules about his use of social networking sites in rather less than a year and a half, he cannot properly complain.

But the report goes on: "It is understood that McClean has annoyed team-mates with his attitude in training and is in danger of becoming ostracised. Coaching staff have noted his aloofness and O'Neill is wary of rifts growing."

I am not sure what McClean thinks he has achieved to justify any part of that attitude toward teammates and staff. He has far sterner critics than me among the Sunderland support but has been at best ordinary, at worst a passenger since the early sparkle, when O'Neill introduced him to the team with immediate effect 14 months ago, fizzled out. He has, in essence, flattered to deceive and, on that basis alone, needs either to be coached and coaxed back to the form that briefly terrorised Premier defences, or be moved on.

My feelings have nothing to do with his political outlook or his unwise habits on Twitter, even less with his controversial choice to play for the Republic of Ireland instead of Northern Ireland. If the man has an unruly or unresponsive presence in the dressing room, on top of underperforming on the field, his fate decides itself.

On the more headline-grabbing issues, my views remain unchanged. The disappointment and resentment of Northern Ireland supporters is fully understood, especially given the time McClean spent when young in the formative process before opting for the Republic. But there really should be no difficulty in seeing that a young man from a fiercely Nationalist area should feel the way he does; it would be stranger if he did not.

The divisiveness is regrettable but a fact of life in that corner of the world. Similarly with the refusal to wear a poppy-enhanced Sunderland shirt to commemorate Remembrance Day, I felt no surprise that the product of a city where Bloody Sunday occurred should shudder at the thought of honouring British and Commonwealth war dead. As I have already stated, I wore my own poppy with pride. But I have always felt that obliging others to do so gets uncomfortably close to the sort of fascism we were meant to be fighting in the Second World War.

He was utterly wrong, on purely disciplinary grounds, to tweet -- complete with expletive -- his anger when left out of Giovanni Trapattoni's lineup for a game in Kazakhstan. Like Roy Keane before him, he was a member of the squad, not its leader. And it is the disciplinary aspect that, ultimately, makes the latest row worthy of discussion.

Anyone who thinks about it for half a second should see that it matters not one jot that McClean likes a song dating from the Irish war of independence. British and Irish leaders resolved that conflict in a manner that led eventually to full independence. It is simply not in the same league as, say, expressing a fondness for a ditty glorifying atrocities from the more recent 30 years of Troubles. But even if it were, McClean would have absolute right to find such a song uplifting (though I hope he wouldn't). His right to like what others find offensive is absolute provided he does nothing, when expressing his views, that incites crime, including the crime of hatred.

What he does not have is the right to behave as he wishes without fear of consequences. Improbable as this seems, he is a minor public figure.

And Sunderland AFC has its own right, the right to regard his conduct as a prominent, well-paid employee as liable to bring the club into disrepute. McClean is either too daft to see that there are limits on his entitlement to voice contentious thoughts in public, or he is not daft at all but puts his right to free speech ahead of the security of employment that depends, for millions in most other walks of life, on acceptance of certain rules.

No one would expect an Englishman playing in Buenos Aires to become an instant convert to the cause of granting Argentina sovereignty of the Falklands. Nor would there be much point in settling too comfortably into his new environment if he started tweeting "Falklands for the Falklanders" polemic.

James McClean's problems with Sunderland AFC, it seems to me, touch marginally on his opinions, but only because of how he goes about sharing them. What he does on the field, and -- if the quoted report is correct -- in the dressing room and in training should be seen as issues that need addressing more urgently.

It is fitting that the poppy row erupted just before Sunderland played Fulham away. The new controversy immediately precedes Fulham at home. If he plays any part in helping his team to a similar result -- a 3-1 Sunderland win -- much will probably be forgotten or forgiven.