Sunshine break fails to halt Sunderland's slide as WBA make their own luck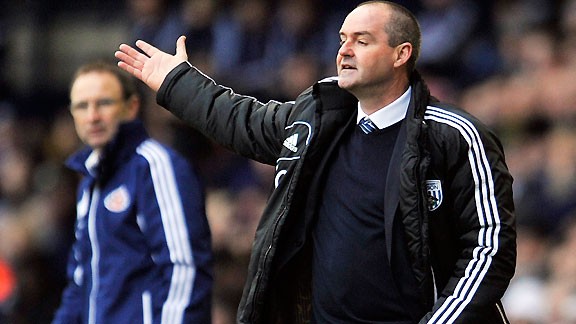 PA PhotosSunderland's Martin O'Neill looks on as Baggies counterpart Steve Clarke steers his side to victory
Another wintry blast, another Sunderland defeat and another familiar outbreak of relegation nerves.

The sunny break in Dubai may have done wonders for bonding and morale within Martin O'Neill's squad, but the players might as well have been shivering on Roker sands for all the good it did in terms of results. A third successive reverse leaves Sunderland looking back nervously over the shoulder rather than upwards to top ten respectability and beyond.

- Evans: Lukaku the leading man in West Brom win

A cold afternoon at the Hawthorns ended West Bromwich Albion 2 Sunderland 1. And not even the bizarre nature of Albion's second goal or the obligatory late rally can remove the suspicion that Sunderland supporters are once again relying on other teams to do even worse.

Luck played some part in the latest setback. The WBA lead at half time, a single goal after Craig Gardner handled and Romelu Lukaku converted the penalty, sounded a fair reflection of play.

But just as Liam Ridgewell's contender for dive of the season put the home game beyond Sunderland's realistic reach (it led to a 3-1 lead and Albion went on to win 4-2), Lukaku's purely accidental second presented too steep a hill to climb at the Hawthorns. Titus Bramble's weakness for recreating a gaffe-strewn past, instead of consistently reproducing the more solid form of which he is capable, led to a calamitous pass back to Simon Mignolet and the keeper's desperate attempt to clear rebounded off Lukaku's body into the net.

There should be no sense of injustice, however. Albion made their own luck at home as they did away. Sunderland had started brightly and even hit a post, and Stephane Sessegnon's late strike gave hope that a point could be salvaged but, as happens with alarming regularity, O'Neill's men left themselves too much to do in too little time. And those men did not include young Lukaku, on loan to WBA from Chelsea and a threat throughout.

The post-match e-mail from O'Neill - it starts "Dear Colin" but I make no claim to be the only recipient - stated: "I thought we should have got something from the game; we created a lot of chances... we should have capitalised on the chances we created."

These words are becoming something of a mantra and the manager ought to know that a spoof version was soon whistling around the Blackcats forum. Although this is an e-mail loop for Sunderland supporters scattered around the world, the make-believe O'Neill missive came from a subscriber who attends most games. He questioned the £5 million purchase of Danny Graham - starting 4-4-2 at West Brom having failed to make Plan B look noticeably effective than the less adventurous Plan A - and damningly described the performance at Albion as abject.

I am not so sure. Albion are not only a decent club (a friend was singing their praises after finding that taking himself, two children and a pensioner had set him back only £65) but has had, under successive managers, a decent playing record. Neutral accounts I have seen of the Hawthorns game suggest Sunderland fell only narrowly short of gaining and deserving a draw.

Where our e-mail satirist is correct, of course, is in seeing that the team he and I support is slipping into serial underachievement.

But I see no reason to suppose the future plans of Jose Mourinho and Pep Guardiola include opening talks with Sunderland AFC - and no reason to believe there is currently any sensible alternative to the Ulsterman. He is still working with a lot of players he inherited from Steve Bruce and must be allowed proper time to build a team that is entirely of his choosing.

Nevertheless, even my patience is wearing thin. O'Neill has already had substantial sums to spend. With the exception of Steven Fletcher, his acquisitions have yet to demonstrate that they are any better than already existed within the squad. I still consider relegation unlikely but have little confidence that Sunderland will finish the season in the top half of the Premier League.

If I may boldly assume survival, it seems beyond argument that the supporters, and above all the owner Ellis Short, should not be expected to tolerate more woeful disappointment next season.

This means, in essence, that Martin O'Neill has no more than nine months, perhaps less, to show he is truly the manager to make the hope for even modest success a more powerful force than the constant fear of failure. And if that is my view, you can safely wager that others are taking an entirely harsher one.