Cheer up Arsenal. For Sunderland fans, the wait has been a little longer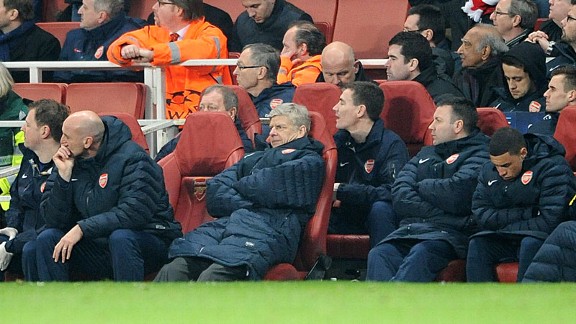 PA PhotosArsene Wenger: If he's unwanted at Arsenal, Sunderland will have him
In some ways I feel sorry for Arsene Wenger as he grows tetchy about unwelcome media focus on issues concerning his employment. And I see the pain of Arsenal supporters contemplating another trophyless season and squabbling with one another as to whether that employment should continue.

Then I remember that Wenger is not a driver on the 29 bus route from Wood Green to the Emirates, battling to make ends meet on modest wages. Gooners are not a wretched body of men and women who, like their counterparts in the Grim Oop North of Sunderland, have known no major success for 40 years.

It is time, I suggest, for a spot of reality and even humility to intrude on the cacophony of whingeing and whining that accompanies this period of underachievement for the Gunners.

If I had grown up in north London instead of the North East of England, it is possible that I would have been an Arsenal supporter. I do not understand the idea of having a "second club" but, of those seen as England's current top six, I would be as generous as to describe Arsenal as the one I dislike least.

Admittedly, a taste for what little remains of the romance of the FA Cup left me delighted that Blackburn Rovers were able to snatch victory in the fifth round tie at the Emirates. But a few days later, I was disappointed when Bayern Munich brushed Arsenal aside in the Champions League. Unless Newcastle United are involved, I will always tend to favour a British club playing in European competition.

But that disappointment with one poor result was a fleeting emotion. Looking at recent events as a whole, there is a strong temptation to register a little more glee at the bumper parcel of comeuppance that has been delivered to that London N5 1BU postal address.

Consider first the manager. Wenger, as regular readers of my offerings know, generally commands my admiration. I believe he has been a great manager of Arsenal and have often wished his origins in north-eastern France might have made North-eastern England an attractive geographical proposition. I almost always enjoy hearing his voice, in English or in French.

The "almost always" qualification is important. I couldn't care less that he sees fouls only when committed by opponents, undetected cheating only when it occurs to Arsenal's disadvantage and contentious refereeing only if it assists the other side. He is hardly alone in making partisan assessments and has the saving grace of being able to do so with an eloquence, in English, that most managers cannot emulate even if they are native speakers.

He is also entitled to get cross with the hacks. A long career as a journalist has not prevented me criticising excesses and idiocies of the print, broadcast and online media. But Wenger's press conference before the Bayern game was an embarrassment.

It may seem impertinent for others to regard your contractual arrangements as a legitimate subject of public scrutiny and speculation; if you are a public figure earning fabulous sums of money, it is an impertinence up with which you must stoically put.

And if you insist on restricting press conference questions to those concerning a forthcoming match against Bayern Munich, you do not swat petulantly at a questioner who immediately complies and tell him: "I am not here to talk about Bayern Munich."

But if that display of childish foot-stamping implied an absence of joined-up thinking, not a defect normally associated with this articulate, knowledgeable Frenchman, what are we to make of the antics of Arsenal supporters who have been calling for his head with increasing force over the past few seasons?

I am not sure Piers Morgan's rabble-rousing anti-Wengerism needs to be taken too seriously. He is a man who fits all too snugly into the designer fan mould, calling to mind the tannoy announcement at an Arsenal v Sunderland game a few seasons ago when two supporters named Rupert and Monty were asked contact the nearest steward. "Don't think they were Sunderland fans," said Morgan's old paper, the Daily Mirror, describing it as the poshest stadium announcement of the year.

Yet even the more down-to-earth Gooners have been demanding change. They just cannot see that the purpose of football is deeper than enabling one set of supporters to attend each match with an expectation of victory while everyone else simply knows their place.

Arsenal have won the top-flight championship on 13 occasions, the FA Cup 10 times, the league cup twice and the European Cup-winners' Cup and Inter-Cities Fairs Cup once apiece.

It is true that the last two of these achievements were the 2004 Premier League title and FA Cup in 2005. But it is also true that at the time Sunderland last won the Premier equivalent, in 1936, Arsenal's league honours record was inferior: four league titles compared with Sunderland's six.

Successive generations of Sunderland fans have had a long time to live with a dip in fortunes that has produced one FA Cup triumph, in 1973, as the only significant silverware since the same trophy was won in 1937. There isn't even the compensating hope that this merely reflects cyclical patterns, with seriously good times bound to return soon. Half the league titles were in the century before last.

This season, the 40th anniversary of that momentous victory over Leeds United, presented an obvious reason to hope for another creditable cup run. Instead, a disgraceful third-round exit against Bolton Wanderers reduced Salut! Sunderland to running reports of the exploits of 1973 as if they were happening now.

Arsenal supporters have, by comparison, led charmed lives. If their club departs from the 2012/2013 Champions League with a second thumping by Bayern, so what? Why should anyone be bothered if the Premier League campaign fizzles out with them having to make do with fifth place or worse, squeezed out by the superior resources that have enabled others to recruit or retain top players?

We all want a spot of glory. Arsenal have enjoyed plenty and, contrary to the apparent view of a vast international army of supporters (I almost called them brand followers), have no divine right to perpetual success.

On Saturday, Sunderland play at West Bromwich Albion. The away section is not sold out because of any assumption on the part of Sunderland supporters that Champions League football is around the corner.

The team has its moments. Steven Fletcher is more lethal than most Premier League strikers and Stephane Sessegnon has as much natural skill as any Gunner (without always knowing quite what to do with it). But this is still a side that needs points to be sure of safety.

Sunderland supporters get their thrills from staying up, pushing at the top 10 now and again, pulling off unexpected victories over the elite. And they turn up in droves because they share a sense of club and community spirit that all the Ruperts and Montys and Pierses can but dream of.