Craig Gordon's setback highlights the goalkeeper's unhappy lot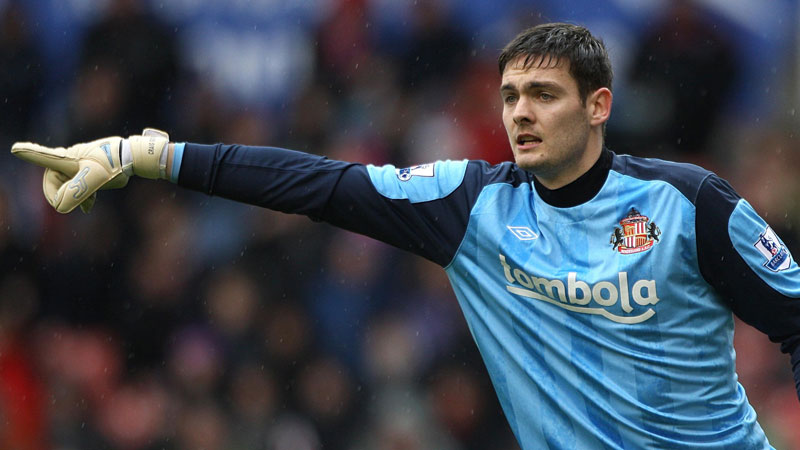 PA PhotosCraig Gordon joined Sunderland in a £9m deal from Hearts
Goalkeeping is a precarious pursuit, best practised by those of thick skin.

I knew it as a schoolboy, David de Gea knows it now. At our spectacularly different levels, we realise - or, in my case, realised - that as many people remember the fluffed crosses, catches and punches as recall the breathtaking diving saves, not to mention the thoroughly competent all-round displays.

- Gordon considers hanging up gloves

One old Sunderland fanzine even had the title An Easy One For Norman in honour of a commentator's remark when Tony Norman, confronted by the simplest of balls, proceeded to drop it at the feet of a striker who gratefully accepted the invitation. Yet Norman was a fine keeper, clocked up nearly 200 games for Sunderland and played well many more times than he played poorly.

De Gea's glory from Wednesday night's defiance of almost everything Real Madrid threw at him will last as long as he avoids another clanger in goal for Manchester United. Then the unkind headlines, the Stretford End doubts, will return. He may as well get used to it for it is no more, no less than the goalkeeper's lot.

Perversely, it may help a keeper's enduring reputation to be forced out of the game, at least as a player, by misfortune. I certainly hope Craig Gordon, who has let it be known he may never play again after persistent bad luck with injuries, is a name that will always inspire affection in the collective memories of fans of Sunderland, Hearts, Cowdenbeath and Scotland.

But there are those who will remember first, whenever his name crops up in conversation, how expensive he was. Roy Keane paid £9 million to bring him from Hearts to Sunderland in 2007 and this remained a record fee for a British club to pay for a keeper until Manchester United bought de Gea from Atletico Madrid for twice as much in 2011.

Did Gordon ever look a £9m player? The answer is yes, but not often enough. He occasionally seemed uncommanding in the six-yard box, though it is hardly controversial to say Sunderland's defence would not, in some recent seasons, have inspired confidence in the most self-assured of keepers. All the same, Gordon at his best was capable of winning points that appeared lost; Keane bought him to keep Sunderland up after promotion and he played his part in helping the club achieve that modest ambition.

As Pete Sixsmith, my recent stand-in on these pages, put it at Salut! Sunderland: "More often than not, he kept us in games with crucial saves and was the first goalkeeper I had seen who used his legs effectively. A tall man, he made the most of his physical attributes and he was a brilliant shot stopper."

Before the move to Wearside, Gordon was renowned for a string of fabulous displays for both Hearts and Scotland. At the Stade de France, he kept out the French with one world-class save after another, in a Euro 2008 qualifying game. At Sunderland, too, there were magnificent saves that prompted comparisons by older fans with the exploits of one of the 1973 FA Cup Final heroes, Jimmy Montgomery.

One save, against Bolton Wanderers in 2010, has been voted the best in Premier League history yet I spotted a supporter's view the other day that this was not even the best or second-best he had made when wearing the Sunderland jersey.

Among the less good moments, he was held partly to blame by Keane for a horrendous 7-1 defeat at Everton a few months after his Sunderland debut in 2007. At Stoke two years ago, during Steve Bruce's managership, he flapped at set pieces and was easily intimidated by City's physical approach, allowing a winning position to turn to defeat.

The loss of confidence may have its roots in the injury he suffered in 2009, at a time when he was regaining top form after a previous layoff. Much has been said and written about the challenge from Jermain Defoe at White Hart Lane that left him with a broken arm. I was there and thought it dangerous and reckless enough to warrant a red card. Defoe escaped any punishment at all and others, some pundits included, gave him the benefit of the doubt.

In any event, it meant a further three months out of action. He later broke the arm again in training, missing the start of the 2010-2011 season.

Despite another promising return, Gordon was then struck by a knee injury and, through a mixture of his own struggles to recapture full fitness and the emergence of Simon Mignolet as a superb but also fast-improving keeper, his days at Sunderland were coming to an end. Martin O'Neill released him at the end of last season even though the frustration of Mignolet's understudy, the Republic of Ireland international Keiren Westwood, may well drive him away.

Now Gordon has gone back to Cowdenbeath where he had a loan spell much earlier in his career, and joined the coaching staff. He told the club's website he was unlikely to play again this season and needed a fall-back position in case that became permanent. "In fact, I'm not sure if I'll play again, so I'm looking to get into coaching as I want to remain in the game," he said.

At just 30, an age when many keepers are reaching their best form, it is a bitter setback for Gordon. He ought to have been looking forward to many more seasons at the top and the prospect of doubling his 40 caps for Scotland.

Even Sunderland fans who will continue to believe the club received slim returns for a huge outlay will, I trust, share the hope that he flourishes as a coach and, perhaps, in a spot of media punditry of his own.