Can Sunderland passion counter the Wilshere and Walcott class that defied Brazil?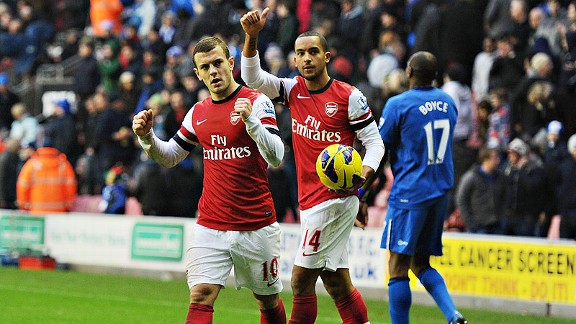 Stuart MacFarlane/Arsenal FC/Getty ImagesJack Wilshere and Theo Walcott will be back in Arsenal colours after excelling for England
It seems just Sunderland's luck to be facing Arsenal as Theo Walcott and Jack Wilshere glide into irresistible form for club and country.

Most of the football world will undoubtedly expect Arsene Wenger to leave Wearside on Saturday night with three more points to assist the cause of catching Tottenham Hotspur and regaining top four status.

- Mangan: Gunners need to build on Stoke clean sheet

But there is plenty of reason for Sunderland supporters to hope that, with a hint of the adventure that has been missing far too often in Martin O'Neill's matchday approach, a surprise is possible.

Arsenal do not always travel well. The cold North East is not a place for pampered Londoners of any kind, still less for adopted Londoners, the cosmopolitan mix of players at Wenger's disposal.

O'Neill's squad may lack the sheer class of such players as Walcott and Wilshere. It's not quite like watching Brazil.

But Steven Fletcher is a dependably potent hitman, Simon Mignolet is streets ahead of most goalkeepers in the Premier League and Stephane Sessegnon has abundant quality in every aspect of the game except finishing, though his form has been troublingly patchy. Even in the mere flashes seen so far in Sunderland colours, Adam Johnson delivers sublime crosses. Danny Rose is not yet Ashley Cole, but he has pace and guile when he breaks forward.

Trawling recent history, I find just enough evidence to support the theory that if these players and the rest raise their game for the occasion, Sunderland can win or at least avoid defeat.

I applauded the defensive display that brought a goal-free draw at the Emirates on the opening day of the season, challenging the derision that came with the purist notion that Sunderland had simply parked a coach in front of Mignolet's goal.

In my ESPN reflections, headlined "Sunderbus at Arsenal: the case for the defence", the wonderful nickname shamelessly borrowed from a matchday report at the Until Arsenal fan site, I wrote these words:


Think back to the Champions League. Is it really anti-football to concentrate on not conceding goals when confronted by clearly superior opponents, as we were at the Emirates? When Chelsea won the Champions League with their absorbing backs-to-the-wall defiance of Barca and Bayern Munich, football correspondents drooled about their "heroic" resistance. A similarly valiant defensive display by Sunderland is no less deserving of praise.
Ideally, home games should be different.

Sunderland supporters know better than to demand all-out attack, a flowing 4-4-2 game that puts the Gunners' defence under constant pressure. But recognising the need for caution against a top side is not the same as meekly accepting the negativity that has become something of a staple of Sunderland's season. At their best, O'Neill's players can combine solid defensive play with bright counter-attacking, even against the better teams.

When Darren Bent scored the winner in the equivalent fixture in November 2009, it was in a match where Arsenal dominated much of the play but found the home side not only resolute but capable of threatening on the break. The 2-0 FA Cup victory last season was also achieved in the face of greater Arsenal possession. But there was more than sturdy defiance to the performance; a BBC report noted that Sunderland had "out-thought, out-fought and out-worked" their opponents.

Of the clubs generally regarded as England's elite, Arsenal are probably the one for which I have most time much as that obliges me to conquer the instincts that come with northern chippiness.

Affection would not be the right word. But I do have boundless respect for Wenger, the man as well as the manager, and for the kind of football he wishes his teams to play.

The selective vision he applies to controversial moments of matches may be infuriating. However, he is not paid to make adversaries feel better about life and invariably expresses his partisanship more elegantly than the admirably successful but - let us be charitable - occasionally boorish Sir Alex Ferguson.

My benevolent disposition stops far short of wishing Monsieur Wenger anything other than profonde tristesse come Saturday evening.

To inject some melancholy into his homeward journey, Sunderland must produce something special.

In recognition of the mighty task facing O'Neill in plotting a winning outcome, I would even abandon my pleadings for a positive game plan and settle for a repeat of the 1-0 win in the first game of the 2000-2001 season when, amid relentless bombardment from Arsenal, a former Gunner, Niall Quinn, nodded home Sunderland's only really chance.

The finale was so thrilling that a fellow supporter was moved to emulate the renowned Wenger eloquence.

Exasperated by the usual suspects making their way clumsily past us to the exits, more intent on avoiding traffic congestion than roaring Sunderland on to a famous victory, she exclaimed: "How can they? It's like leaving a Shakespearian tragedy."