The loneliness of the long-distance supporter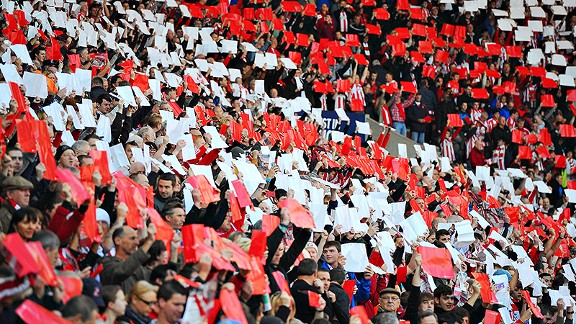 Michael Regan/Getty ImagesThe author's loyalty to Sunderland extends well beyond the Stadium of Light.
As the 11-hour flight from Sri Lanka landed at Heathrow 2 1/2 hours after Lee Mason blew his whistle to end the Reading-Sunderland game, I did the same as most other passengers but for a different reason. I switched on my mobile phone, perhaps a little earlier than the cabin crew would have liked, and looked for the result.

There was none of the usual blow-by-blow tweeting from my friend Pete Sixmsith's stadium seat; he is becoming a little picky about long away trips.

Instead, my eyes went straight to Martin O'Neill's post-match e-mail, chummily addressed, in my case "Dear Colin", but sent to thousands of Sunderland fans who sign up for the service. The subject field: "We've lost a game we shouldn't have."

I was out of my misery in one sense, deep back into it in another. Two-and-a-half hours is a long time to ponder all possible outcomes. I know pilots sometimes announce important sports results but somehow sensed it was not going to happen on Saturday. The airline toilets may not be fitted with the equivalent of smoke detectors to trap clandestine use of mobiles - "the checking of football scores is strictly against international aviation regulations" - but you do get the impression it would be frowned upon.

Of the match itself, I can say little. O'Neill's view is countered by my ESPN colleague Jon Keen's wounding thought that Sunderland were the worst team seen this season at the Madejski Stadium. Since the Reading manager Brian McDermott praised his men for beating "very good" opposition, it is clearly a matter of take your pick.

But the latest of my international, albeit homebound, attempts to follow Sunderland's fortunes reminded me of all the others I have had to make over the years. The ordeal of keeping tabs from afar is perhaps most acutely experienced by supporters of clubs who do not frankly expect to win every game as a matter of course, just another day at the office.

The texting method had worked normally a few days, or rather nights, earlier, when I had forced myself to stay awake until past 3 a.m. Sri Lankan time to await Pete's missives from the home game against Swansea. I might as well have slept and made do with his match report here the next day. "An uninspiring 0-0 at half time" was followed an hour later by "And it remained so".

At least it was not a repeat of an occasion when, on holiday in Thailand, I got heartily fed up as another friend bombarded me with goal updates from Everton 7, Sunderland 1. And I had not deluded myself the game would be viewable on television, requiring me to turn down the sound and arrange empty suitases to conceal the screen from my sleeping wife. I did that once in southeast Asia, only to be greeted by interminable motor sport instead of the live football hotel staff had promised.

When living in Abu Dhabi, I would tell friends I had never seen so much live Sunderland action since the days I spent as a lad going to Roker Park every week and away games whenever I could afford the ticket and fare. Just about every Premier League game was televised, so many some weeks that the games would spill over to the comedy channel (yes, Sunderland matches ended up there with mocking frequency).

Before I had my own flat there, I would head off to The Club - known to every taxi driver in town as the British Club, though it had never been called that and welcomed expats of all nationalities - where each game was allotted to a different screen in the bar.

Once, having checked beforehand to ensure Sunderland v Wigan would indeed be shown, I arrived to find that part of the bar jam-packed. This seemed odd (I was under no illusions about the attractiveness of the game to neutrals) but a note pinned to the television set confirmed it was reserved for my match. "Whatever it says, we're all here for the rugby, Wales v Scotland," the Welsh voice nearest to me piped up crossly. I stood my ground with the support of club staff - plenty of the other screens were showing Six Nations in any case - but, in doing so, briefly made myself the most unpopular man in the Gulf.

During another period of exile, in Paris, I had a haunt where I knew I'd meet at least one other Sunderland supporter if games were being shown. On holiday in Mexico, I positioned the family for drinks just below a screen showing highlights of a cup win at Peterborough.

At least on those occasions I had sound or vision, or both, to keep or bring myself up to date. Relying on text messages, or having to wait until rules permit a phone to be used, is pure torture.

Back to the here and now, I am already fretting about Arsenal at home this Saturday. Many more lost points and the relegation battle would be back on.

But at least my musings on globetrotting football support have stopped me losing even more of whatever popularity I still command.

My original plan had been to question the sanity or sense of proportion of those Sunderland supporters, highly educated and otherwise mature people among them, who either booed that well-known Newcastle United fan Danny Graham at the Stadium of Light two days before he joined from Swansea or pretended it mattered a jot who he followed when young or what he said about Sunderland in a light-hearted interview years later.