Sunderland fail to build on dour defensive platform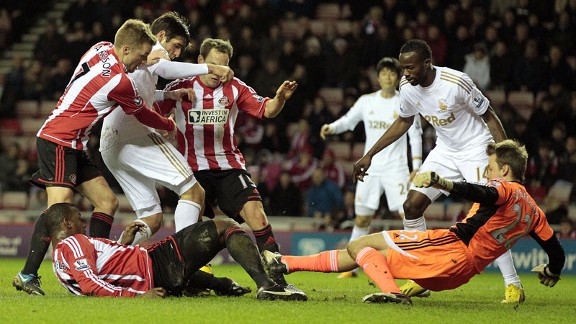 GettyImagesDanny Graham sees a late chance go begging as the Sunderland defence close him down
Alphabetically, Sunderland and Swansea are next to each other in the list of Premier League clubs. On the evidence of Tuesday night's game, the footballing gap is a fair bit wider than the alphabetical one.

- Hicks: Swans and Sunderland slumber
- N'Diaye holds the key to Sunderland's hopes

Sunderland's performance in the 0-0 stalemate fluctuated between the dour and the dire, with the dour at least giving them a point which keeps them out of the muck and nettles at the bottom of the table.

The dour was personified by John O'Shea and Titus Bramble who were mightily impressive at the heart of the Sunderland defence. Well timed interceptions, solid tackles and strong headers played a major part in repulsing a Swansea attack that was not as impressive as its midfield play. When the wall was breached, Simon Mignolet was on hand to keep out the Swans.

This defensive strength should have acted as a platform for the Sunderland midfield, impressive in the last two league games, to seize the initiative, dictate the tempo and take it to the visitors as they had done against a limpid West Ham and a wish-washy Wigan.

Alas, they didn't. Alfred N'Diaye, so impressive at the DW Stadium, spent much of the game being by-passed as Swansea moved the ball around him and encourage him to chase it before taking him out of the game completely.

David Vaughan worked very hard to get into things, but he was forced further and further back as Swansea's plan of forcing him to turn paid off. When Vaughan turns, he invariably loses the ball and Swansea knew that. Good planning from Laudrup and his coaching staff.

Both Johnson and Sessegnon as the wide men tried to influence the game, but both flattered to deceive and not for the first time this season. Johnson finds it difficult to do anything oher than beat a man on the outside while the Benin-born Sessegnon is always one pass or shot away from being a world class player.

All of which left Steven Fletcher on his own against two good central defenders in Williams and the over theatrical Flores. He had some success against them, but never looked like scoring against second-choice keeper Gerhard Tremmel. In fact, Sunderland were so shot shy that the Bard of the Valleys, Max Boyce complete with giant leek, could have lingered in the Swans goal without any difficulties.

Most Sunderland supporters are supportive of chairman Ellis Short and manager Martin O'Neill. They know that both are intelligent and thoughtful men who desperately want the club to succeed.

O'Neill has had a tough season being in a situation where the players at his disposal are not his. He has been busy trying to bring new men in and appears to be on the verge of signing Danny Graham from Swansea. His heart must have sunk as Graham's appearance as a sub was greeted by a vociferous minority of supporters describing Graham in less than complimentary terms because of his boyhood support for Sunderland's local rivals.

He probably had mixed emotions when Graham missed a comfortable chance minutes from the end. Relief that he had not deprived Sunderland of a point combined with worry that he missed a relatively straightforward opportunity.

Should Graham sign, he needs a good start to his Sunderland career. Hopefully that will come at Reading on Saturday, a game that is of the utmost importance to both sides, as neither wants to look up the word 'relegation 'in the dictionary.