Fletcher double gives Sunderland hope of tastier morsels to come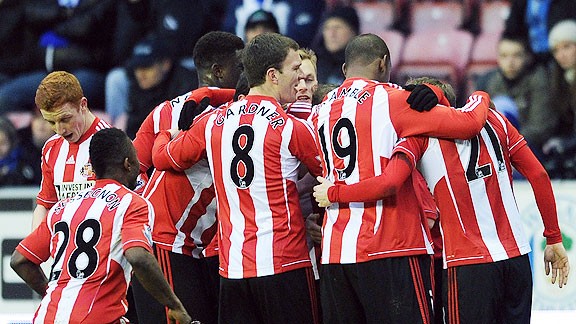 Chris Brunskill/Getty ImagesSunderland had plenty of reason to celebrate their key away win at Wigan on Saturday.
Early in his bleakly compelling study of 1930s working-class life, The Road to Wigan Pier, George Orwell describes the breakfast table of cheap lodgings in this pier-less Lancashire town; the bread crumbs change position from day to day but remain the same crumbs.

- Brown: Dire defending puts Latics in trouble

Supporting Sunderland is a variation of that. It brings far too many servings of gruel -- relegation battles, meek cup exits, dreary football -- and a constant yearning for the odd crumb from the high table of football. These crumbs are sometimes misleadingly tasty. A cup run suddenly comes along, there's a swashbuckling promotion season or a top 10 Premier League finish. But somehow, however much it moves around, it is always the same crumb, one symbolising false hope and ultimate disappointment.

The visit to Wigan Athletic brought another glimpse of the tasty crumb, a 3-2 victory taking Sunderland to the heady heights of 11th place, a position that can also be expressed as top of the bottom half of the table.

- Match report: Wigan 2-3 Sunderland

No one gets carried away by a win against Wigan. They play decent football at times, have salt-of-the-earth fans and, in Roberto Martinez, a good manager and by all accounts a good man. But they are the team everyone expects to go down if all three promoted clubs do not.

That sort of logic means little to the Sunderland supporter, accustomed to losing or drawing to lowly opposition even in seasons when it is possible to defeat one or more of the moneybags elite.

But the wintry trip across the Pennines to Wigan resulted, happily for the magnificent 5,000-strong away support, in that rarity, a second successive Premier win, each having involved three Sunderland goals. Coming four days after one of those meek cup exits, well beaten by Bolton Wanderers after forcing the Championship side back to the Stadium of Light for a replay, it was also an important morale-booster.

Yes, Sunderland fans were angered by yet another flabby cup display in a match where victory seemed, beforehand, the only plausible outcome.

But let us not forget that only 17,500 people bothered to turn up for an untelevised game; does the much bigger fan base deserve any better? I include myself in that rebuke since I never seriously considered attending despite having twice made the long round trip from London for post-Christmas Premier League games at home.

As much as I wanted Sunderland to beat Bolton, and embark on a cup run I might hope to latch onto later, the league is what matters most. Unless you enjoy the thrill of charging for promotion to the extent that life seems better one division down, the Premier is the place to be. The season started badly enough to make relegation a distinct possibility, and if I had been told I could have one win and one defeat from a cold night on Wearside and a cold day in Wigan, my choice would have been precisely what has happened.

Among cheering aspects of the display at the DW Stadium was the quick recovery from a painfully early own goal from David Vaughan, midfield star of Sunderland's last Premier game, a 3-0 romp against West Ham. Craig Gardner's penalty equaliser, after a clear cut handball, was followed by two delightful finishes from the Sunderland goal machine, Steven Fletcher.

The second half saw squandered chances to put the game completely beyond Wigan's grasp and a classically Sunderland rearguard action with heroic blocks and excellent Simon Mignolet saves, but also suicidal surrender of possession leading to a series of sloppily conceded free kicks around the penalty box. And anxious moments galore.

Maybe the progress made under Martin O'Neill, and the much better sequence of results since early December, will now inject the confidence needed for a more composed brand of football, sparing supporters further threats to their nervous systems.

To make that hope come true, there is a recipe to follow. Don't let the crumb go stale.