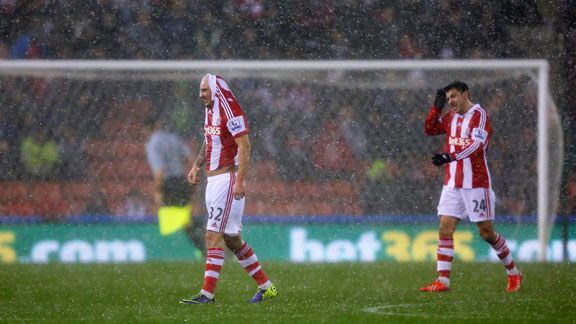 PA PhotosStoke and Man Utd players were forced to leave the pitch after a hailstorm hit the Britannia Stadium.
It was a game that the club shop would struggle to sell the DVD for in their Christmas sales. Even the bargain bucket would feel hard done by should it find itself associated with such a woeful match -- one that the Potters eventually lost 2-0 to Manchester United.

Picture the scene: a wet and windy night at the Britannia in December, but Lionel Messi and his Barcelona teammates were nowhere in sight to prove the well-known theory. If they had been there, they wouldn't have had much of a chance to showcase their tiki-taka anyway as, around the 20-minute mark, the referee decided to abandon play for 10 minutes due to a torrential hailstorm. Continue Reading...