A whole new ball game for Stoke away from home
Stoke travel to Old Trafford on Saturday to take on the not-so-mighty-lately Manchester United. This hasn't always been a game to look forward to since the Potters' promotion back to the Premier League in 2008 though; rather than relish the occasion it became one of many predictable defeats on the road in what was a typical Tony Pulis "bonus game".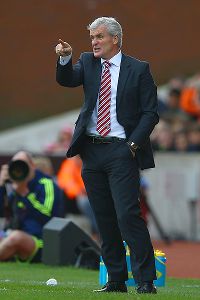 Matthew Lewis/Getty ImagesNew Stoke manager Mark Hughes.
It was these games that were immediately de-prioritised by the former boss (along with every other away game if we're being truthful) where we would see those players fans begged for to feature finally get their "chance", often out of position where they would naturally struggle. In the last couple of seasons a lot of fans just stopped going to watch the side away, why should they bother to try, knowing the manager wouldn't? An average of three away wins a season since promotion (was it really as many as that?) is enough to put any fan off spending their hard earned cash travelling the length of the country to support the latest surrender.

But those days are thankfully behind Stoke and with an away win already under his belt, Mark Hughes will go into the game at Old Trafford with every intention of playing his strongest side and getting a result. The Stoke following, buoyed by free travel as well as a renewed purpose away from home are enjoying being able to expect a result from 38 games a season and not just 19. It's because of that approach that some of the more optimistic fans are hopeful of a good game at Old Trafford as, much like Stoke, they continue to find their feet under their own new manager David Moyes.

Fans have already seen Stoke play arguably the best they ever have done away from home in the 1-0 win against West Ham and the Fulham defeat was enough to make you shriek (much like Michael Jackson whose statue disappeared knowing he'd be confronted by thousands of disgruntled Stokies).

The side are improving with each game despite what the naysayers would suggest and I'm looking forward to seeing how they perform on Saturday. Stoke have played best this season against the bigger sides, those who concentrate on their own attacking game leaving pockets of space to be exploited and allowing the midfield to get their passing game and movement going.

Whilst I'm hoping for a decent performance, the fact remains that the rest of the footballing world won't be expecting Stoke to win, and that will perhaps be one less monkey on the manager's back as he looks to reverse his side's fortunes of late.

Hughes will hopefully have Geoff Cameron back from injury and also be looking to expose the aforementioned space by retaining the services of Oussama Assaidi over on the left and Marko Arnautovic on the other flank. Stephen Ireland remains crucial to the new system functioning and his runs, along with those of his midfield colleagues will be key to unlocking the door to defences.

In terms of who will start up front, I would personally go for Kenwyne Jones, whilst he has failed to impress in the league, none of his peers have either and his attributes lend themselves to the more mobile role away from home that is likely required.

Unfortunately, striker wise Stoke have what they hold until the window opens again in January but I can't help wondering what this side would look like with Marc Stein circa. 1992 in it; now that is the stuff of dreams.