Time for Hughes to wield the axe again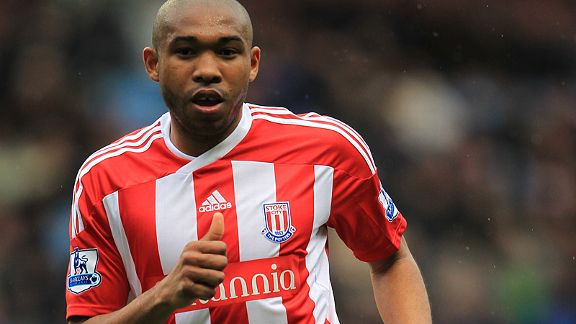 APWilson Palacios could be handed his chance in Stoke's midfield.
Stoke manager Mark Hughes may have settled on his favoured defence, but changes he has made to the midfield and attacking positions in recent weeks suggest he is yet to find a combination he is happy with further up field.

Whilst attack is the most pressing concern with the side's lack of success in front of goal, the midfield will be causing Hughes sleepless nights too, not least because others who haven't started there thus far will be knocking on the his hotel room door asking for a chance.

It's safe to assume that Steven N'Zonzi's place in the side is nailed on, the Frenchman has been vital to the new manager as the one player able to effortlessly breach the divide between the old and new styles. I'd also suggest that Stephen Ireland has now made the link-man position his own following his impressive performances there. His quick, intelligent play is exactly what is required of that role and his ability to turn and beat a man is a welcome bonus, and something that should have resulted in a penalty for the Irishman last week.

That just leaves one role in the midfield three to come under scrutiny -- the other defensive midfield berth alongside N'Zonzi, currently occupied by Marc Wilson. Wilson has long since expressed his preference to play in the middle and got his wish this season following an injury to Wilson Palacios, but has sadly failed to make the position his own after a number of dodgy showings there. The criticisms levelled at him from his cameos in midfield under Tony Pulis have returned in Hughes' more expansive system, putting his future in the role firmly at risk.

His decision making and spatial awareness in possession has come back under the microscope and whilst he deserved his chance to impress, the simple fact is he hasn't. It was Palacios who the manager chose to start the season, but an injury in the warm-up at Anfield on the first day put paid to the Honduran staking his own claim following an extended absence from the side under the old manager.

It could well be that Palacios gets that chance as his replacement has done little to suggest he deserves an extended run in the side and given his early substitution last week, it appears that has not gone unnoticed. I have to admit that I'm yet to be convinced by Palacios, I certainly wasn't in the pre-season games on the American tour, but his brief appearance at the Emirates showcased a more mobile figure happy to receive and carry the ball. It makes sense that it is he who is given a chance in that third midfield slot given he was very much in the manager's thoughts at the outset of the campaign.

There is, however, another player who could and perhaps should also be considered as next in line: Geoff Cameron, Stoke's current right-back. I keep harping on about it but I honestly think this is where he would be best utilised by Hughes. He has played one game in defensive midfield, against Arsenal on his debut when he was awarded Man of the Match -– these were my comments afterwards:

"It took him quarter of an hour or so to realise he would be playing 80 minutes without the ball and once he'd settled into shape (more or less) he set about breaking up play and in doing so made more tackles and ground duels than anyone else, with eight tackles made and seven of those successful. Those stats make pleasant reading but perhaps don't tell the full story as for most of the challenges he had no right to come away with the ball. His anticipation, timing and execution in wrestling the ball off the opposition, but doing so cleanly, meant he set up a number of attacks in the space behind the Arsenal midfield"

Hughes may well be reluctant to set Cameron loose in the middle just yet given how well he has performed this season on the right side of defence, especially as there are few options to replace him there. He certainly remains an option for the manager in the future though; I'm hoping that a new right-back is a priority in January (after a striker of course) which would make this a meaningful proposition.

It will be interesting to see if Hughes does indeed opt to replace Wilson in the side. Given he has been quick to address others issues on the pitch I remain hopeful that he will do so again for the West Brom match.