Stoke let down by more poor refereeing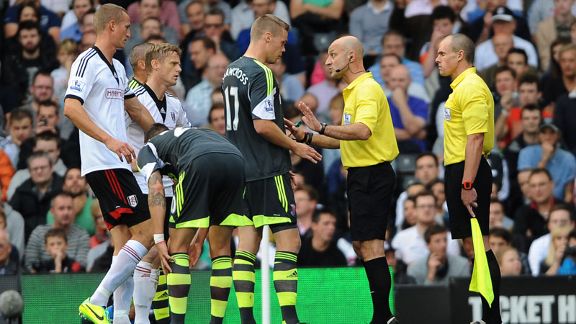 PA PhotosReferee Roger East made a number of controversial calls at Craven Cottage.
Lady luck was conspicuous by her absence once more as Stoke were let down by another poor referee before being undone by Fulham's only shot on target (following a deflected shot) to lose 1-0 on Saturday.

After last week's showing, the game against Fulham was important for a lot of reasons, and while Stoke came away with nothing you could put on the league table, there was plenty to take back to the training ground and into their next game.

A flailing hand into Erik Pieters' face and two stonewall penalties came to nothing for Stoke, who found themselves questioning another poor refereeing performance. That's the kind of luck you need, especially away from home, but at the same time you can't rely on one or two decisions, and there comes a time when you make your own luck and take your chances. It's clear that Stoke are missing a goal scorer, and it seemed almost ironic that it was exactly that in Darren Bent who took the points for Fulham with his one and only chance.

The main things manager Mark Hughes will take away, though, are:

Performance: The manager will have been looking for a reaction after last week's shambles and he got a good one with goals the only thing missing. You don't get points for good performances, but they do breed confidence, and confidence leads to chances, which lead to goals. It was a good response from the team, and the players who came in did their chances of an extended run in the side little harm.

Stephen Ireland: I was happy to see Ireland get a league start, and you can see he is an intelligent footballer who manages to find pockets of space at just the right time. The link-up play between him and Marko Arnautovic was very encouraging, with his passes to the Austrian being the most used combination on the day. That he also managed to get 90 minutes will also please Hughes; that's a huge milestone in his quest to full fitness, and I get the feeling that spot in the side is now his to lose. I know it was his sloppy ball that gifted possession to Fulham, which saw them eventually score, but that shouldn't take anything away from a Man of the Match performance.

Marko Arnautovic: It was a surprise to see Arnautovic leading the line with Stoke's two main strikers being consigned to the bench, but I thought he did well considering, largely due to the aforementioned partnership. His movement was good and while he and Ireland were on the same wavelength, sadly the rest of the team seemed to be a step behind them both. He's certainly a confident lad with some excellent displays of skill and technique, but he'll be disappointed with some of his shooting and decision making in the final third. He's an exciting talent, though, and will only improve as he gets used to his teammates and vice versa.

Oussama Assaidi: Hughes will also be encouraged by the performance of Assaidi, who appears to be a good option for that left side. As soon as he received the ball for the first time he ran straight at the full-back and, despite Fulham doubling up on him after that, he managed to make as many key passes as anyone in the side. He's refreshingly direct in his play and justifiably confident running at pace with the ball at his feet toward the opposition defence. It remains to be seen whether he is another who will be given a starting berth, but it would certainly be interesting to see him given the chance, especially with a target man in the middle to connect with his excellent byline delivery.

It's no coincidence that the three who stood out were three new faces brought in by the manager with his system and style of play in mind. While the group as a whole has adapted well to the changes made by Hughes, it is a big change for them. As for the three discussed here, playing on the front foot appears to be second nature, and it shows.

It's a shame that we now have an international break to contend with when a game next week would have been the perfect remedy for Saturday's disappointments. Perhaps some fans can use the time wisely to calm themselves down and maybe appreciate how much better the team is actually playing so they are ready to do their bit to help the side find the missing piece of the jigsaw against West Brom in the next game.