Stoke City got exactly what they deserved from Sunday's game -- nothing -- as Norwich rightly left the Potteries with all three points after their 1-0 win.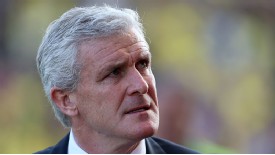 GettyImagesMark Hughes was baffled by Stoke's poor performance against Norwich.
You could argue performance like this was due having enjoyed such promise so far this season, and the scale of the fan's discontent is perhaps indicative of exactly how good things have been. But Mark Hughes has always welcomed and indeed encouraged the fans' lofty expectations. Looking down to the bench on Saturday you could see he that he was as annoyed as the rest of those who had to endure what happened.

I got the impression fans and players alike maybe went into the game with the wrong attitude, expecting a side struggling for form to be there for the taking. Norwich had done their homework though, and quite simply wanted to fight more for the points on offer against a Stoke side taken aback at the concept of the opposition denying them space to play. Norwich absolutely deserve all the credit, and while Stoke should have had a penalty, they shouldn't have to rely on one decision going for them to get a result -- that wasn't acceptable under former manager Tony Pulis and it's equally unacceptable under Hughes.

-Cameron seeks to secure role with USMNT

To be fair to the manager though, he has said much the same and criticised his players for their attitude and application, as well he should. In terms of taking positives from the game, there really weren't many on the pitch. But what this loss does do is give everyone an almighty kick up the backside to remind them how difficult the league can be.

It also now gives Hughes justification to make changes having rightly kept with the same players while they were on a good run of form; one such casualty is likely to be Charlie Adam, who again failed to make any impression on the game and was swiftly hooked at half time.

To be fair, Adam wasn't the worst player on the pitch but the role he is tasked with fulfilling is crucial to the side getting on the front foot and with those around him failing him as much as his own efforts, it was only a matter of time until he made way. His replacement, Stephen Ireland, managed to join up with the attack much better and linked well with the other half-time replacement, Jermaine Pennant, but there were too many off their game around them both for it to amount to anything meaningful.

Games are won and lost in midfield, and they all had an absolute nightmare on the day. Having enjoyed the time and space afforded to them so far this season, they simply had no answer to Norwich's pressure on the ball.

I'd written before and expressed concern about the midfield getting caught in possession, especially Marc Wilson -- and that particular chicken well and truly came home to roost, pecking him into mistake after mistake. I've long since had reservations about him occupying such a central role. Thought I had been too quick to judge given how well he has done in the previous couple of games, but Sunday those concerns were sadly realised.

Much like Adam, he is simply far too slow of foot and mind when push comes to shove and when the third cog of in that particular wheel, Stephen N'Zonzi, has a poor game too then the battle is lost, the defence breached and attack unsupported. Based on the manager and players' post-match comments it is clear that the riot act has been well and truly read, and add that to rumours of the players having their day off cancelled gives me comfort that the manager is as incensed as the fans.

With emotions running high, it's hard to see a loss like this as anything but disappointing. Some are unfortunately using it as an opportunity to criticise a manager they have never wanted. But at the end of the day, that's football and Stoke have bloodied the noses of plenty of other teams in the same fashion over the years.

Hughes has always said that mistakes will be made as he undertakes the mammoth task of transforming the side, and to be fair to him this is the first performance in months that has been below par. It was a valuable, maybe even much-needed lesson for the players that while they are all enjoying the new ways of working, it's not a case of just turning up and expecting a result, points have to be fought for and earned.

I think Stoke's goalkeeper has the right attitude. . .


Well today didn't go as planned, we weren't good enough. We will get better. Believe in the process. Time to grind! #potternation #beastmode

— Asmir Begovic (@asmir1) September 29, 2013


I couldn't have put it better myself.

Vis Unita Fortior