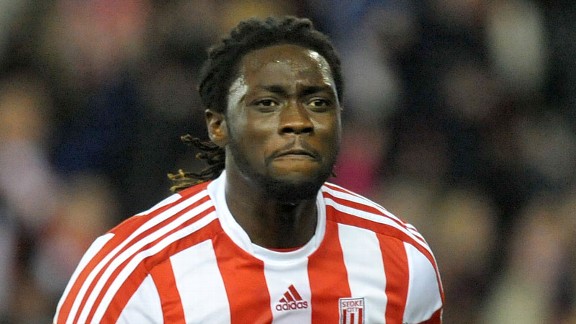 PA PhotosKenwyne Jones: Looks set to handed a new contract.
Last weekend saw yet another dearth of goals in the Premier League, making it officially the lowest scoring start in the history of the competition. How I used look forward to Super Sundays, but the flashing lights, montages and shouty presentation are as exciting as it gets these days; in fact I'm half thinking of asking for my money back for misrepresentation.

Though whilst the division's leading lights panic themselves into a frenzy at this sad state of affairs, low scoring is a common concept to Stoke City, who have become accustomed to finishing at the bottom, or thereabouts, of the goals scoring charts at the end of the season. That they are still struggling despite the upturn in chance creation will cause them a degree of concern, the inclusion of Kenwyne Jones these last few games has to be seen as a positive first step in addressing that.

- Jones set for Stoke extension

Jones has been a revelation leading the line since his League Cup hat-trick against Walsall in August and while he is yet to register a goal in the Premier League this term, his contribution to the team has been significant and welcome in equal measure. I've lost count of the number of times I had called out for pace, power and agility to be introduced to the side these last two years and thankfully it's not been long before Mark Hughes has seen that particular light. He of course is not burdened by the need to justify any past purchases or decisions and as such is able to address the conundrum from an unbiased position and most importantly with the insight that he was as world class striker himself.

In fact Jones' impact and attitude under Hughes has led to reports of a new deal for the Trinidadian, who had previously shown a reluctance to extend his stay in the Potteries. He looks a player reborn; charging around the pitch with an encouraging smile on his face and at 28 years old is at an age when he should be well into his prime. I'm not suggesting that Jones is the answer to Stoke's goalscoring problems, but rather he has the attributes needed for a leading striker to enable the Stoke side to be that much more potent in attack.

His willingness to move towards a lofted pass instead of waiting for it and attacking a header by using that initial two or three steps of acceleration sets him apart from his competition entirely. People may point to chances he has missed, with the one against West Ham and most recently against Man City often cited, but they perhaps forget that he forged those out of nothing, he created them for himself.

A happy and motivated Jones will only be further buoyed at securing a new deal in a new more hospitable environment for him, putting an end to any uncertainty over his future and allowing him to concentrate on improving his game.

In terms of strikers who can play that leading role, there are actually a number of options available to Hughes and that picture will change again in January when the transfer window opens once more. We know that Juan Agudelo will arrive and you get the feeling that January also presents the best option of getting rid of the hapless Peter Crouch. It's still tough to get over the fact that the previous manager chose not to sanction the £5 million sale of Crouch last January.

I'm of the opinion that ultimately it was the Crouch signing and everything related to it, in terms of team selections and additional purchases to cover up the problems he created, that sealed Pulis' fate.

With Jones being the obvious currency to use last window, the fact that he is back in favour puts Crouch in that very same position as Stoke look to get back as much as humanly possible, freeing up those valuable wages to secure better, more suited options.

One of those options could well be a final attempt to bring in Mame Diouf, if he hasn't signed a new deal by then Hanover will surely be looking to cut their losses rather than lose him on a free transfer. That said, we thought that would be the case in the window just gone and based on the quotes coming from the German club throughout, nothing about that particular saga would be surprising.