A successful window for Stoke
You either love it or hate it but you can't take your eyes off it. You wait all summer for it but when it shuts you're glad it's all over -- Transfer Window Deadline Day.

Stoke's requirements for the summer vary depending on who you speak to but the universal consensus on Mark Hughes' arrival was that the Potters were in dire need of a left back and pace moving up the pitch -- both of which have been suitably addressed. The only other requirement really was a new striker, the much fabled 15-goals-a-season man. But given most other clubs are seeking the same, it's perhaps not too much of a surprise that the club came up short here. They came close on Mame Diouf though and were also hopeful of concluding an early release for Juan Agudelo, but the New England Revolution's desperation to keep him for the playoffs was reflected by their unrealistic financial demands.

That's not to say the window for Stoke has been unsuccessful. On the contrary, I think it's one of, if not the the best the club have had since their promotion back to the top flight.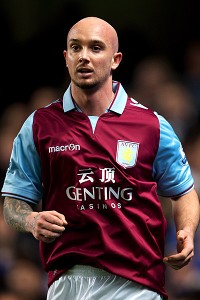 Neville Williams/Aston Villa FC/Getty ImagesStoke City scored a coup with Stephen Ireland, a low-risk signing who at 27 has already excelled for two clubs.
In signing Erik Pieters and Marc Muniesa, Hughes has filled the biggest gap they had at left back with real quality. Pieters is the Netherlands' player of choice for that position and Muniesa a promising backup who also continues to play an important part for his country at U21 level. Both have given plenty of reason for optimism and will only get better as they get fitter and sharper among their new colleagues.

In the midfield we have seen the arrival of Stephen Ireland, who appears to have split opinion among the fan base. For me he is an excellent signing, extremely low risk and one whom Hughes obviously knows well. It's easy to forget he is still only 27 and not that long ago was though of as one of the league's leading lights under our gaffer, picking up the player of the season at Manchester City and in the 2011-12 campaign picked up the fans' player of the season award at Aston Villa too.

I honestly see this as a bit of a coup for the club and it could represent the best deal yet. Stoke effectively picks up the remainder of his contract, meaning if he shines they get the chance of signing him permanently for free. If of course he doesn't do as well as everyone hopes then they simply let the loan lapse and he leaves. It's a no brainer for a player who, when on form, can link play between midfield and attack better than anyone on Stoke's books. On daring to suggest this last night I was met with significant opposition in defence of one Charlie Adam but I'm not sure that he is the right option for the role Hughes is asking of him, and has come up short despite being happy to take responsibility on the pitch. And while that is a rare and welcome sight at Stoke, the right attitude shouldn't be confused as being the right player, and Ireland's arrival suggests I'm perhaps not the only one to have doubts about his ongoing prospects there.

As far as the front three are concerned the side have been crying out for pace and creativity for years, and the arrivals of Oussama Assaidi and Marko Arnautovic certainly tick both boxes ... and then some. Not only have the club brought in those raw attributes to benefit the team they have brought in two exciting and highly rated players, especially Marko who despite comparisons to Mario Balotelli is incredibly well thought of in the game. Both are players who will transform the side's successes on the pitch and are tailor made for the system the new manager is implementing. I think we will see a much more fluid and balanced side that will come alive in the final third instead of stop dead as it has done with the less suited options utilised to date.

In terms of outgoings, the club will be happy to get some wages off the books with the departures of Cameron Jerome, Ryan Shotton and Michael Kightly even though I'm sure they would have preferred permanent deals. One permanent deal that did go through though was for Florent Cuvelier, who sadly failed to live up to his early promise and now joins Sheffield United. I'm sure Flo will impress with regular game time and go on to be a big success for the Blades and will soon find himself climbing the leagues. He's a nice lad and I wish him every success.

A final but crucial note from me, and it's something that is often overlooked or taken for granted, is that we must also applaud the club for keeping the league's best keeper Asmir Begovic and midfield maestro Steven N'Zonzi. There was serious interest in both and to hold on to them as well as bringing in the quality they have for little more than £5m is a great achievement that will only benefit Hughes and the side for what promises to be an exciting campaign ahead.

Vis Unita Fortior