Pennant pops West Ham's bubble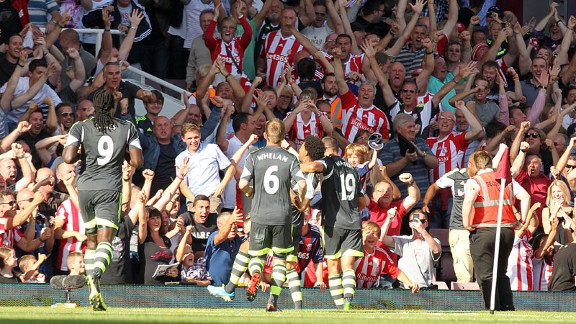 PA PhotosJermaine Pennant scored for Stoke against West Ham.
Mark Hughes made it three wins in a week as his Stoke side beat hosts West Ham 1-0 and whilst the score line suggests a close game, the Potters dominated from start to finish.

It was the "perfect away performance", according to Hughes, who recorded his first managerial win at Upton Park and many other pundits are now starting to realise that the change in Stoke's play is far reaching.

- Hughes hails Jermaine Pennant

West Ham went into the game unbeaten this season having lost only once at home in 2013, but those statistics would fly out of the window as Hughes' men arrived on a curious mission, to actually attempt to win an away game. Stoke set about popping those bubbles, sung about every three and a half minutes by the Hammers fans - among them Ray Winstone, who would have been hard pushed to offer odds on anything other than a Stoke victory.

The main talking points were as follows:

Tactics - Attempting to win an away game is a foreign concept to Stoke fans, but the new manager set out his intentions in the pre-match press conference: he was going there to win. There was no talk of West Ham's illustrious history, how Stoke would be honoured to share the same pitch as them, it was about what Stoke could do and their expectation of a result.

I previously wrote about finding the balance with the new system and Saturday's game would appear to be a step closer to that, with the side mixing their play a little more. The players had a much better appreciation of when to clear their lines, when to use a long pass and when to keep possession and as a result looked much more comfortable than they have at any point this season.

Steven N'Zonzi - His name always seems to find itself at the centre of my blog much as he is so often centre of everything Stoke do and Saturday was quite possibly his best game to date for the Potters. He looked a man on a mission and the West Ham midfield would have left the pitch feeling they'd spent an afternoon playing Whack-a-mole rather than a game of football, such was his all action display. This game was everything that is good about Stoke's French maestro, and I'm hoping that it's more of the same once the window closes; the club know he is staying and have brought in better options for him to link up with.

Player combinations - This is a statistic I've recently discovered (I apologise in advance as it's my new obsession) and is an indicator of where the side's successes are but also where potential bottlenecks in the system can be identified. The most frequent pass against West Ham was from N'Zonzi to Jon Walters or as far as the system is concerned, from central cog to the right inside forward. Walters again struggled in this role but found himself released time after time with space and only a full-back for company. I found myself frustrated and hopeful in equal measure as the fact Stoke played so well with the limitations of Jon in that role gives encouragement and only adds to the notion that a player suited to this system would thrive.

The same can be said on the other side, with the second most frequent pass being from Matty Etherington to Erik Pieters, which to me shows that the former remains a poor option who is unwilling to take on his man, instead passing backwards to the safety of his full-back. This appears to be backed up by the fact that passes from Pieters to Etherington didn't make this table of frequent combinations, the new arrival choosing instead to pass infield to Marc Wilson. I'm not sure this is 'news' but certainly adds credibility, and indeed hope, to the fact these are areas the manager has identified as lacking and is going all out to add quality to.

Kenwyne Jones - I want to end the blog with a nod to the man who gave the front line a much needed air of mobility, creating space and opportunity for the players around him. He was a threat all afternoon, stretching the West Ham defence and is so much harder to defend against than an easy-to-deal-with Peter Crouch. He was the one who so often got the side on the front foot in the attacking third, ensuring the play didn't stop with the final ball. His pace and agility also gave his defence a meaningful out ball which they used well on Saturday, one you feel wouldn't have been as good an option with a more static front man.

And so we find ourselves at Transfer Deadline day. Being fifth in the league will help, especially with persuading overseas targets whose only point of reference is the current standings, as the transfer team try desperately to bring in some much needed pace and creativity. It promises to be an exciting day down at Clayton Wood and if prospective signings can make their way past the perennial mob of fans before 11pm then this season really does start to look our most promising in the league to date.