Is football ready for Sparky's Stoke?
The preseason is over, the hard work is done (three months without football) and Mark Hughes will now be putting the finishing touches to his preparations for the campaign's opener Saturday at Anfield.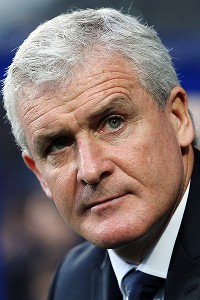 Julian Finney/Getty ImagesStoke supporters are eager to see what new manager Mark 'Sparky' Hughes conjures up this season.
You can almost smell the deep heat of the dressing room as fans around the land put in place their own pre-match routines, designating the pre-match pub, handing out tickets to their mates and dusting the cobwebs off their lucky underwear.

The summer seems to have dragged on for so much longer than the actual 90 days it will have done before referee Martin Atkinson (gutted) blows the whistle that kicks off the 2013-14 Premier League season. Much of that is down to the sheer anticipation of seeing the Potters put on a show under new manager Mark Hughes and surprise the footballing world with their new tiki-taka type approach to the game.


That might be taking things a bit, but from what the fans have seen so far of Stoke 2.0, the signs are positive and the new style should surprise the majority of the Fleet Street naysayers so used to sticking the boot into the Potters' approach.

There are some, however, who remain unconvinced, and given the lack of additions to a toothless front line, I can sympathise. This was always going to be the case though, and with the public reporting of Nelson Oliveira and the ongoing soap opera surrounding Mame Diouf, you can bet there will be a handful of other strikers being talked to under the radar.

Yes, it would be ideal to get someone in before Liverpool but realistically speaking it's more likely Stoke supporters will have to wait a little longer, people just need to be patient.

That's easier said than done, of course. Having watched Peter Crouch and Jon Walters go through the motions last weekend, I too am disappointed at the prospect of both starting on Saturday. But I am more enthused at the prospect of the likes of Charlie Adam, Glen Whelan and Steven N'Zonzi being released from the midfield cage to aid our ever-ailing strikers.

As for who will be lining up, that's anyone's guess, but I expect we will see a 4-3-3/4-5-1 formation, which away from home will be more of the latter playing on the break, I'd expect.

Based on what I have seen preseason, my team prediction is:

Goal: Begovic

Defence: Cameron, Shawcross, Huth, Pieters

Midfield: N'Zonzi, Adam, Whelan

Forwards: Walters, Crouch, Etherington


Personally, I would prefer Jermaine Pennant to start on the right of the front three as his delivery and ability to win a free kick could be important, especially away from home against one of the league's better sides. I would also prefer to see Kenwyne Jones as the leading man; Crouch has a habit of getting isolated and pulled deep, and with his complete and utter lack of pace is unable to break quickly with the play when the opportunity presents itself.

That said, none of us has any real idea exactly who or how Hughes will line up. As trusty as my Magic 8-Ball has been over the years, its noncommittal 'cannot predict now' when asked if that was the team means the universe is equally as clueless.

What is a certainty though (Magic 8-Ball said 'Without a doubt'), is that there will be near on 3,000 vociferous men, women and children in red and white roaring on their team and new manager whoever is picked.

Vis Unita Fortior