Has the season come too soon?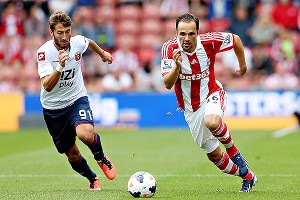 Scott Heavey/Getty ImagesStoke's Matthew Etherington, right, tries to beat Genoa's Andrea Bertolacci to the ball Saturday.
The local Stoke paper last week told us that the players had been watching footage of teams playing out from the back with Liverpool, Swansea and Chelsea being mentioned as fine purveyors of that particular art. In fact, I watched two of those sides last week and found myself impressed, not at their defensive distribution, but at how sharp they looked, how the ball zipped between ever-moving team-mates.

What I saw in Stoke's 0-0 draw with Genoa Saturday had plenty of playing out from the back. But that bite, that urgency and tempo just wasn't there. I mentioned to my friend at the time at how slow Stoke's game looked and he replied it was certainly preseason pace. But while it is preseason, Stoke's opening Premier League match is Saturday at Liverpool. For me, this game should have been played as if it was their first league game.

The shape at least is taking more . . . shape. It's a 4-3-3 in possession which drops into a 4-5-1 on the defensive. On paper, Stoke should have the personnel for that but there are still some gaping holes, most specifically where it counts; up front.

Defence: I thought it looked OK, albeit against a side that didn't look too threatening. Much like the American opposition though, they looked shaky under pressure and the space they were leaving would be far more exposed by a Luis Suarez than a Mario Santana. The full-backs supported the attack well, especially Geoff Cameron, who has looked impressive throughout preseason following a well-earned rest over the summer.


Midfield: This should be where Stoke are their strongest given the options available. Glen Whelan spoke earlier in the week about the freedom midfielders have been given to join up with the attack with one sitting in front of the defence. But all too often they were either too far ahead of defence and unable to receive a pass or too far away from the attack to offer meaningful support.

I'm worried about Wilson Palacios, though. A lot of weight appears to have been placed on his hefty shoulders and he's been a mainstay throughout the preseason. But his inability to affect a game in the same way as his more rounded French colleague, Steven N'Zonzi, means he's taking up a space in the middle that could be filled by someone else. He does the things N'Zonzi does but isn't as athletic, skilful or clinical.

I lost count of the number of times he gave the ball away with a lazy cross-field ball. In itself, it doesn't sound bad, but when the full-backs are pushed up the field it puts the team under huge pressure. I'd love to see him succeed after the dismal two years he has had at Stoke, but I almost feel like he is being used as a pawn, an unnecessary indicator of change from the previous regime to the detriment of the team.

Attackers: The front three should be driving the action in the final third, but they played very, very narrow and had little pace to exploit the pockets of space made by the intelligent passing in the middle. Stoke are crying out for at least one player who can run at pace with the ball and take on a player or two, someone to stretch the back line, opening up space for these supporting midfielders and an agile spearhead to attack the crosses.

There was hope with the sight of Jermaine Pennant who received the warmest of introductions from the Stoke faithful, introducing some of that much needed trickery and flair from out wide. But this remains the most problematic area, one manager Mark Hughes will hope is added to sooner rather than later.

Reading this back it sounds overly critical. But it's not supposed to be, it's just that at this stage the gloves are off, the business of the Premier League is upon us and the stakes are high. The side are still clearly in transition but it's important that I emphasise they are going exactly in the right direction.

These things do take time and the nature of the football calendar dictates that things aren't going to be perfect at the start of the season as Hughes needs to get his ideas across, assess what he has and get new faces in.

Two-thirds of that process are done, though the final part will perhaps be the most important. Hughes says the side will get better with every game and you can see that being the case. I just hope that Stoke do see one or two new arrivals come in and lift the place to get some points on the board as the Potters continue this much needed evolution.

Vis Unita Fortior