Stoke City season preview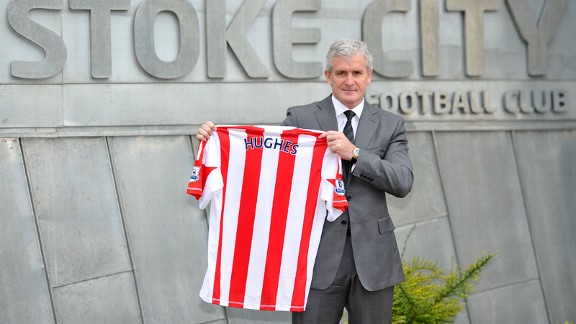 AllsportNew Stoke manager Mark Hughes has brought new ideas and renewed optimism.
What's changed since last season?
What hasn't changed! The manager, the staff, signings made before pre-season and something I'm reliably informed is referred to as optimism? Mark Hughes has come in and made bold predictions of a new, more exciting approach to games that will hopefully see the goal-shy Potters achieve a more respectable 'goals for' column. Stoke also managed to bring in not one, but two, left-backs, having shoe horned all and sundry into that spot for the last five years.

Hughes has also identified that the club need a goal scorer, though a drunken blind man could have told you that. The fans for the most part are happy Tony Pulis has been replaced following an extended period of stagnation, but are thankful for all he did whilst at the club in establishing Stoke as a Premier League team. There is obviously the risk of destabilisation given the unprecedented levels of change and that's something the club will do their utmost to manage, but what I can say is that for the first time in a long time there is a real sense of excitement for the new season.


Key to this campaign?
The key will be how well (and how quickly) the players take on the new gaffer's philosophies and methods having been previously drilled to within an inch of their lives under the uber-defensive system of Pulis. Early signs from the pre-season games would suggest some are coping better than others and the manager will no doubt be knocking on the chairman's door to plug any gaps he has identified during the tour of America.

We don't know what finances have been promised to Hughes and with the recent snubbing from Oliveira some are starting to panic that the club want to do things on the cheap, but I don't believe that's the case. The previous manager has managed to stockpile players with little resale, some on huge contracts, and with the new financial rules for the league, it's not as simple as going out and spending tens of millions without moving on the dead wood. How that situation is managed, and most importantly how quickly that happens, will be key to incomings. It would be nice to get the majority of deals concluded before August 17, but with the transfer window shutting at the start of September it could go right to the wire; this isn't a new concept for Stoke, given Pulis made the majority of his signings in the final hours of the window.

Predicted finish/realistic goal
A realistic goal would be to stay in the league. The new way of playing is as much of a change, style wise, as a footballer could experience so to avoid relegation in the first season whilst playing a more aesthetically pleasing approach that gets you off your seat every now and then would be realistic and entirely acceptable. It would also be nice to throw in a decent cup run to get a better look at some of the youngsters who have been involved at various parts of pre-season - the likes of Jordan Keane, Florent Cuvelier, Lucas Dawson and James Alabi will no doubt be looking forward to the opportunity to impress in meaningful competition. In terms of where Stoke will actually finish, I'll say 12th, which, as I've said above, would represent a decent return, all things considered.

Make or break season for...
It's make or break for chairman, manager and players in different ways. The chairman, Peter Coates, will be keen for the new gaffer to hit the ground running having made the huge decision to part company with his predecessor and he'll need to carefully balance his visions of self sufficiency with appropriate backing.

In terms of Hughes, he'll no doubt be keen to put his QPR experience firmly to bed having been reminded about it continuously since his appointment. It's clearly something he wants to put right and it's that humility and determination which has impressed a number of fans. It's no easy task, but one he is clearly confident of given what is at stake both for the club and more personally for his own reputation.

But it's mostly make or break for the players; many of whom thrived in previous years under the security of their hard work in an incredibly disciplined shape. None more so than Jon Walters, who will now be given the chance to prove he is deserving of a start in a more adventurous set-up having come under criticism for his continued selection under Pulis. If Stoke are to be genuine top ten contenders then Walters, and indeed many others, will have to step up and prove their worth in a style that could well expose their frailties.

One to watch
My one to watch for this season is Marc Muniesa, the young arrival from Barcelona who can play at centre-back or left-back. Whilst he is unlikely to break up the established duo of Ryan Shawcross and Robert Huth in the middle, he could well be battling it out for the left-back slot with other new arrival Erik Pieters, based on what I have seen from the pre-season matches so far. He's a very capable player who, as you would expect, is more than comfortable on the ball and, whilst not wanting to go back to Pulis' penchant of playing people out of position, he could even find himself getting a chance in the centre of the midfield, such is his skill set.