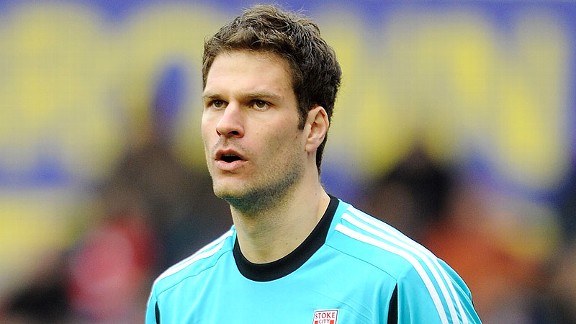 Chris Brunskill/Getty ImagesBarcelona are supposedly interested in signing Stoke shotstopper Asmir Begovic.
Asmir Begovic was seen calling on all his handling abilities as he left the Player of the Year Awards clutching no less than four gongs for his, at times, herculean efforts between the sticks this season.

Begovic's form was perhaps one of the few highlights of a campaign best forgotten for most as the Potters narrowly escaped the fate of relegation, but it is still unclear whether or not he will return to claim the number 1 jersey next term.

The popular Bosnian has been linked with the biggest and best in this country and is even said to be a target for Catalan giants Barcelona as they seek a long-term replacement for goalkeeping stalwart Victor Valdes. But the possibility of him continuing his stay also remains. Begovic has spoken out this week and would appear to have confirmed his intention to see his contract out and remain in the Potteries as long as the club are able to match his ambitions.

- Begovic plans Stoke stay

"All the speculation is flattering and nice, but as long as Stoke want me, I am contracted here. I am happy here and desperate to help the club push forward, as long as they are moving in the right direction."

While it's not quite clear what that statement means in real terms, it remains to be seen whether he is happy to sing to the tune of Tony Pulis' perennial 40-point mantra with anything above that being a "bonus". What is clear though is that Begovic has grown into a fantastic goalkeeper since his move from Portsmouth, a move that may not have come about had Pulis not twice failed to secure the loan signing of 40-year-old David James in the fortnight beforehand.

Since he had his chance, Begovic has taken it with both hands (pun intended), and despite a few errors during that time, has become one of the first names on the team sheet (after Jonathan Walters of course). His performances this season have been under increased scrutiny due to the club's poor run of form, not to mention the speculation surrounding his future. To come out of it with the majority of the club's awards show that those efforts have been recognised and rewarded.

Whether that success and recognition will be enough to convince him to remain at Stoke will perhaps largely depend on the club and its short to medium term plans. With the manager's future uncertain and the season yet to conclude, I think we'll have to wait just a little longer before we can start to make any assumptions. However, I'm sure every Stoke fan will join me in congratulating him, shaking his hand, and use the other one to slap handcuffs on him so he goes nowhere.