Tony Pulis should go with the Flo
With Stoke City all but safe following Wigan's loss to Swansea Tuesday, the last two games give Tony Pulis a great opportunity to try out some of the younger players available to him.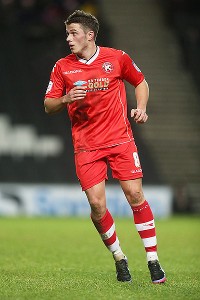 Pete Norton/Getty ImagesStoke should give Florent Cuvelier an opportunity in the Potters' final two fixtures.
Midfielder Florent Cuvelier is the obvious candidate for consideration, having returned to his parent club following a disappointing spell at Peterborough. While the rules dictate three clubs can hold a player's registration during a season, he can only play for two.

But there is a loophole which could see Cuvelier come into contention for the Potters, one FIFA intend to outlaw next year, and that is around those who have moved under the Emergency Loan system.

Currently, the FA does not consider Emergency Loans to 'count' when considering a player's eligibility under this rule. With Flo having signed for Peterborough on such terms, he now becomes available for Stoke should they wish to use him.

This isn't a new concept to the club; indeed, it is one they have taken advantage of in the past when they signed Asmir Begovic, who played for the men in red and white despite having already played for Portsmouth and Ipswich, the latter on an Emergency Loan.

Cuvelier, 20, enjoyed an extended run at Walsall earlier this season and the previous campaign, earning rave reviews. Whis deal running out in less than a year, he will be keen to understand the club's intentions for him.

While Pulis will no doubt still think of Flo as a 'kiddie', his pedigree at such a tender age is enough for him to be seriously considered, having played at every age level for Belgium up to U-21, and captaining his side at the U-19 European Championships.

That he was voted into the team of the tournament by UEFA as he played against the likes of Danny Rose, Jordan Henderson and Steven Caulker only lends further weight to him at least being given an opportunity to shine in the Premier League in the final two fixtures.

A prospect of that ilk -- a two-footed, box-to-box midfielder who stands six feet who is also comfortable on the ball -- can only be a positive for a manager needing to potentially replace one of his current options in Dean Whitehead.

Surely it makes more sense to get a good look with a view to learning more about him rather than to continue to play a player who in all likelihood will be released at the end of the season?

Sadly though, Pulis is unlikely to see Cuvelier as an option and that would appear to be an opportunity missed as he looks ahead to his end-of-season meeting with the Coates family where youth will be high on the agenda.

If nothing else, showing a willingness to consider some of his younger players would only add another string to his increasingly threadbare bow strengthening his own position as the man to take the owners' vision of self-sustainability forward.

I know in my heart of hearts what will most likely happen but I will cling to the prospect of a gesture from a man who knows his time is running out, a gesture that would offer a glimmer of hope of change . . . I can but dream.