Tony Pulis delighted with a point?!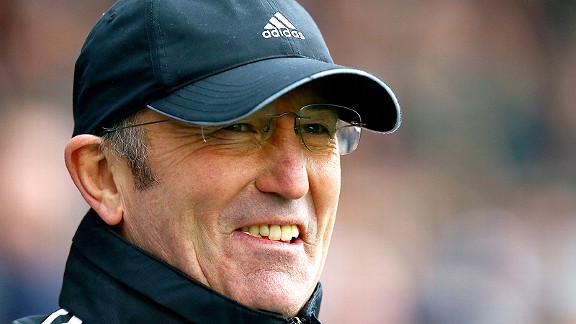 Jan Kruger/Getty ImagesTony Pulis has turned things around at Crystal Palace.
Stoke City threw away a winning position against a Sunderland side reduced to ten men for over an hour to come away with a solitary point as they drew 1-1 at the Stadium of Light.

The former heroes of Sunderland's Cup winning side were clapped onto the pitch before the game but they weren't the only ones celebrating former glories. Tony Pulis, once again, went about handing his CV around to anyone he encountered to deflect attention from his failings on the night. His insistence that it was a hard fought draw before saying he was delighted with a point sought only to further infuriate those who had to watch their side sit back against a team that conceded six goals the week previous, only this time they only had 10 men.

- Match report: Sunderland 1-1 Stoke
- Heneage: Sunderland show survival spirit

Playing Marc Wilson was always a risk given his obvious lack of fitness and having seen Steven N'Zonzi and Dean Whitehead booked in the first half, Geoff Cameron seemed the obvious option to replace one of them as they would be on edge for the rest of the game. Pulis alluded to as much in his post-match interview which begs the question why he didn't take one of them off instead of substituting Stoke's sole creative force, Charlie Adam, to the dismay of the player himself as well as midfield colleague N'Zonzi.

Given Adam's influence it was plain to see that he was the player who should be the one to take advantage of being the spare man to put the Potters on the front foot against the ten men of Sunderland. With Cameron having to come on for Wilson, the most obvious substitution was to bring in either Michael Kightly or Matty Etherington for Whitehead which would allow Adam to do exactly that while having the cover of a fresh-legged winger to chase Andy Johnson back. Sadly, negativity set in once more as the manager replaced quite possibly the last player that he should have and in doing so played right into the hands of the opposition.

Sunderland looked bereft of ideas for the most part and with players falling out on the pitch and the fans on their back. The red card then came at a perfect time for Stoke to capitalise one goal up. It was soon to be 11 men again though as one wayward fan ran on to confront the players before being ushered off by the police, who on reflection should have left the situation to Robert Huth who wandered over to interject. Paolo di Canio, desperate not to be upstaged, decided to keep coming onto the field of play in-between his oh-so-public shows of passion as the Italian continues to desperately leave his mark on the back pages, if not the pitch.

Sadly, this game and the manager's post-match comments will do little to quell the current discontent in the stands as it personified his cautious reign of the last two seasons. Pulis has long been accused of having no plan B, and even with the numerical advantage, he continued to instruct the launching of more long balls onto the heads of Sunderland's defence instead of getting the ball down, stretching the play and supplementing that with the correct substitutions. Sitting back against 10 men for the entire second half and being lucky to come away with a point by the time the final whistle went is not acceptable in any way shape or form.

Of course Sunderland battled hard but in doing so left so much space in the midfield only for it to be continually bypassed and ignored. I spoke to many people last night about the game and the common theme to come out of it was either one of anger and frustration or one of 'a point is a good result, we never win away' -- that the expectation has been lowered to such a degree is desperately sad to hear and is indicative of the mood around the club which can only translate to those on the pitch.

Pulis said midweek that safety is considered success for a club like Stoke and always will be, and that anything else is a bonus. Well, if that doesn't enthuse the players, I don't know what will. Today though we must spare a thought for Pulis as his world must have crumbled around him as he learned that his magical 40 points might not be enough to escape relegation, and no matter what points Stoke finish on, this fan can only hope they won't be enough for him to escape the sack either.