One swallow does not a summer make
One swallow does not a summer make, nor does one week absolve the management team for the last two seasons of underachievement.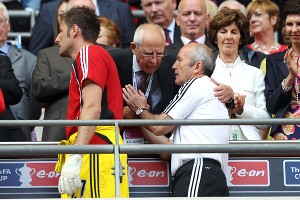 Press Association via AP ImagesStoke manager Tony Pulis (white shirt) and chairman Peter Coates will have a heart-to-heart talk at the end of the season.
The majority of Stoke City fans have been well and truly on the back of the manager these last few months, but it seems that a portion of those are now beginning to turn back to supporting Tony Pulis based on the fact that Stoke have won their last two games to all but secure their Premier League safety.

It seems some are quick to forget the last two seasons of dire management and results given the euphoria of two much-needed wins, ignoring that they got to the point of being much-needed because of those very failings.

-Coates promises thorough examination at Stoke
-Pulis: Begovic better than De Gea

The same fans are now saying how Pulis 'pulled it out the bag' by bringing Charlie Adam back into the side with seemingly no recognition that it was Pulis who shoe-horned the creative Scot into the wrong position for months before banishing him to the bench for the majority of the campaign.

Also, what a masterstroke to continue with Peter Crouch -- Pulis must know what he is doing, again. Crouch had scored once in 26 games and Pulis was going to start him regardless; there was no thought, no epiphany, just continued ignorance of better, more suited options.

That things worked out are due in no small part to the opponents; QPR have been relegated and Norwich are in the thick of it themselves. When you think Stoke's only other win this calendar year was against Reading, the other side relegated to the Championship, it becomes all the more critical to ensure that we don't ignore the elephant in the room because if we do, it will trample all over everything that has been established.

Last season. the Potters finished bottom of the majority of offensive tables and this season has largely followed suit, showing management team proclamations of a three-month 'blip' to be as wide of the mark as most of the side's (limited) shots.

In fact, to add to the indignity of Stoke's other 'achievements', this season they have also managed to find ourselves bottom of another table, the fair play one. The following are accurate as of Wednesday:

Goals Scored: 19th of 20 Premier League teams; 90th of 92 teams in English football

Shots: 19th of 20 EPL teams; 83rd of 92 in English football

Shots on target: Last in EPL; 79th of 92 English football

Corners: Last in EPL; second-from-last in English football

Whilst the blushes may have been spared on a national level for shots and shots on target by giants such as Accrington, Barnet and Burton, I'm pretty sure they aren't blessed with a strike 'force' costing over £25m and the option of a Ballon d'Or winner in their ranks.

Moving forward, the idea of a third season of such performances and what that ominously points to doesn't bear thinking about. Given that the last two seasons' efforts have come with the manager being heavily funded, the prospect of this trend, continuing coupled with a reduction in funds, should set the alarm bells ringing even louder than they have been.

I have faith that the Coates family will do the right thing and I think we are at the point now where the blindingly obvious can no longer be ignored or indeed endured by the club's benefactors.

With season ticket sales taking a big hit, the effects off the pitch should be every inch as concerning for them as those on it. Whether the outcome of the well-publicised end-of-season meeting results in a change of manager or one who will willingly hold his hands up with a genuine promise to change though remains to be seen.