Where did it all go wrong for Stoke?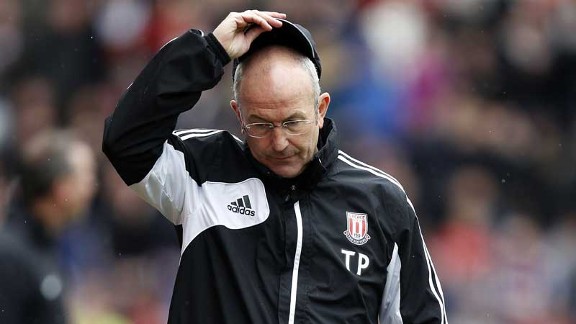 PA PhotosTony Pulis is struggling to get a reaction from his Stoke team
Two years ago to the day Stoke fans woke up full of hope, riding on the crest of a red and white wave, as the day before the Potters had annihilated Bolton Wanderers 5-0 at Wembley to reach the FA Cup final. The future was bright, so much promise lay ahead; it was the stuff of dreams. Sadly, since that point it has been more of a nightmare as the side and manager have regressed to such a point that the club now find themselves in a full-blown relegation battle. Where did it all go wrong?

The answer is very complex, but put simply, Tony Pulis used the promise of Europe as an opportunity to assemble his dream team of 'past it' stars. His hope was evolution, though at the same time he reverted back to his most basic and cautious type, panicked at the expectation of his recent achievement. In came Peter Crouch and Jonathan Woodgate - two names Pulis has admired for years, two names he can brag about managing in his Sandbanks local, but ultimately two names who proved to be the foundation of the manager's downfall.

By concentrating on the chance to bring in those shiny stickers from his Panini album he again ignored those areas so desperate for attention - namely the full-back positions, wing reinforcements and a Jon Walters upgrade. That 2011-12 season was painful viewing and in blindly persisting with his new strike partnership, and attempting to shoehorn Woodgate into the defence, his side finished bottom of every offensive table as the season fizzled to a disappointing close.

The same mistakes were being made; favourites over form, too many players out of position, but now Stoke had players who weren't suited to the manager's tactics being central to the game plan. The hard work and in-your-face style dissipated along with the goals as all the pace from the front was lost, Crouch was static, Jermaine Pennant dropped so Ryan Shotton could play to protect Woodgate and Rory Delap was phased out so the Potters didn't even have his throw to fall back on. The result of this was a side that couldn't defend from the front, a side that found themselves getting deeper and deeper, isolating Crouch further still, a side that was a poor shadow of its former self from only months previous.

This season has seen that worrying trend continue, but to add insult to (the latest shiny sticker Michael Owen's) injury, in refusing to admit failure and persisting with the unsuited Crouch, the manager tried another experiment, playing Charlie Adam behind him. This in turn pushed Walters to the wing which piled pressure on the out of form Matt Etherington, who wasn't afforded any back up; you can see where this is going. Much like Woodgate-gate that experiment didn't work either. It's not a case of bad luck though; so many fans predicted exactly what would happen with all of these signings, whilst they hoped and prayed that a new style of play would ensue to utilise their respective strengths. History showed that wasn't something in the manager's locker and what happened was frustratingly predictable.

And so we arrive to present day, watching a side struggling to understand its identity, littered with conflicting characters and traits not conducive to a balanced side. That five players were not in their favoured positions in Stoke's last match, against Manchester United, only adds fuel to the fire of despondency in the stands as they watch everything that made their club great fall apart before their eyes. Commander and chief Pulis continues to flounder on the touchlines, blankly looking on oblivious and unable to conjure any kind of positive reaction from players and fans alike, while with each passing game Stoke slide ever closer to the unthinkable.

Such is my (lack of) confidence under the current manager, I personally feel that Stoke's fate will now be decided by others and that is a worrying condemnation of Pulis' actions since that great, great day only two years ago. That Cup Final and European adventure was a magnificent achievement for Pulis of course; though you could say the subsequent, predictable fall from grace is too, but for very different reasons.