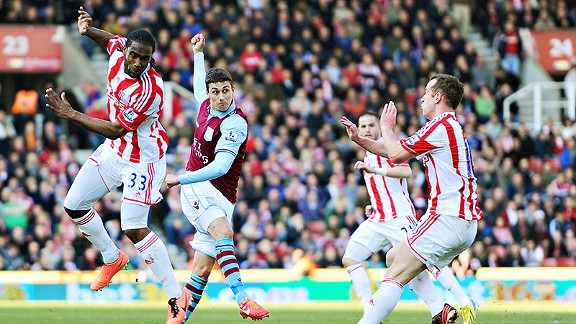 Chris Brunskill/Getty ImagesA moment of brilliance from Aston Villa's Matthew Lowton sent Stoke to yet another defeat.
Aston Villa deservedly came away with all three points in beating hosts Stoke City 3-1 as the Potters continued their slide down the table.

- Hughes: Villa refuse to do it the easy way
- Lambert hails Lowton wonder strike

The headline news was Tony Pulis finally dropping Peter Crouch, and in the delirium I didn't really appreciate just how poor the rest of the team looked. Glenn Whelan failed a fitness test and instead of bringing in Charlie Adam, the manager opted for the defensive Dean Whitehead who was anonymous throughout. Pulis talks of leaving a legacy. Well, it was there for all to see; a side bereft of any creativity or comfort on the ball, built for perspiration over inspiration. Far too many players are just not good enough, and their lack of ability on the ball -- with each other serving as options to pass to -- was a damning indictment of the manager's failure to shape a side capable of controlling a game at this level.

Pulis prides himself on Stoke's defence, but despite selecting so many defensive players, his side was torn apart time and time again with Villa unlucky to go in only 1-0 up at halftime. Jones was rightly included today, but with such negativity around him, he was largely ineffective unless he made his own chances. Our attacking game didn't kick in until Adam came on to ironic cheers for the utterly woeful Ryan Shotton (the best right winger at the club according to Pulis). The same manager stated midweek that today wasn't an important game; that there are seven left and he only needs to win two. The crowd and the table today leave him in little doubt as to exactly how dire the situation is.

The players looked completely uninspired and incapable of doing anything to halt the side's ongoing plight. I know how they feel; it's like parking your pride and joy at the top of a hill and locking it only to hear the handbrake groaning as it starts to roll down the hill as you watch in painful resignation of the inevitable. I've said all season that Pulis deserves to stay until the summer when he should be replaced, but I honestly can't see where the next point is coming from. His complete lack of ownership of the issues is alarming and even after today's game he still harks on about not getting the breaks. As things stand, I'm scared; scared to leave him in charge watching my side drop like a stone while others pick up form, and scared of rolling the dice and bringing in someone else.

I honestly don't know what the answer is but as that car careers down towards the duel carriageway at the bottom of that hill, I'm in a state of panic and disbelief, frozen in fear and helplessly watching on. All of the sides below us have goals and form in them, even QPR. Wigan can score three as soon as conceding the same; we've seen what Villa can do and Newcastle have a number of goal-scorers who could step up. I think the key team in and around us is Sunderland. We're yet to see how their appointment of Paolo Di Canio affects their own downward spiral and of course we visit the Stadium of Light in the not-too-distant future in another relegation six-pointer.

That we're having to rely on others so heavily is unfortunate but it's entirely necessary. I've never been a fan of so many sides as I will on anyone who plays (insert name of team on less than 34 points). Something has got to give somewhere; everyone has their own opinion on where and what that should be but sadly only a handful of individuals are able to affect that.

Let's hope one of them does so soon and for the better.