Be careful what you wish for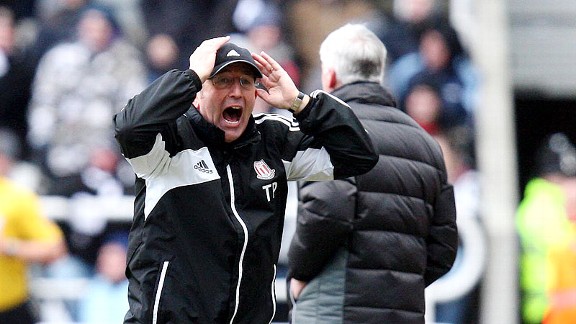 Ian Horrocks/Newcastle United via Getty ImagesStoke supporters just wish manager Tony Pulis would play his best players in their best positions.
The discontent of the Stoke fans has, in the last couple of weeks, been picked up by the national media allowing the Fleet Street contingent their say on the frustrations felt in the Potteries. Sadly, their response has been ill-informed and not reflective of current feeling at all. The tired throw-away line of 'Be careful what you wish for' has been reeled out on more than one occasion our TV screens and in the papers.

- Butland calls for Stoke response

'Be careful what you wish for' is as ignorant and patronising as 'Look what happened to Charlton/Blackburn/Wolves' when discussing something so tribal and significant and illustrates just how little people understand of the particular issues currently befalling our great club.

Long have the tools of fear, uncertainty and doubt been used in public relations and politics to discourage objective reasoning. And when you're dealing with something so emotionally charged as your football team, it doesn't take much to pull dissenters back into line. Pulis did this in a recent interview saying how he had been to watch Blackburn and Wolves recently and how you can't take your place in the league for granted.

Immediately, fear of dropping out of the league is subliminally suggested should he be removed, in the same breath he went on to mention promotion, the Cup final and Europe, reminding people of former glories in a hope they forget the many current misgivings. In the manager's case, it is calculated and an act of self-preservation, something I've no doubt every one of us would do in the same situation. But the same rhetoric from the majority of the media in this instance is plain ignorance.

I have spoken to a few journalists over the last few weeks who have actively sought to understand the cause of the fans discontent, but the majority of their profession have wrongly run with the notion that Stoke fans are ungrateful, they want to be higher up the table and even pushing for Europe which is absolute rubbish. All Stoke fans want under the current manager is for the team to be the best it can be. That means playing the best players in their best positions and going out to achieve the best result possible. That simply isn't happening and hasn't been for some time. Indeed, I don't think I'm speaking out of line by saying that most fans would be happy enough dropping a place or two in the league if it meant the manager going into a game doing exactly that with the intention of winning it as opposed to not losing it.

These are the real issues. There's no clamour for a Barcelona-esque transformation to fire us into Europe. The fans have even accepted the rudimentary style that comes with the manager; they just want him to play the best players suited to that system because as things stand, he is the architect of his own downfall by refusing to do so. As for the fear of what would happen if the manager was sacked and the "certain relegation that would naturally follow", just think about how well set up the club is. Stoke City have a supportive Chairman who is a lifelong fan of the club. They have little to no debt, are improving the facilities year on year and have achieved Category A status for the Academy. With that in mind and the fact a number of players are out of contract in the summer, Stoke City is ready made for a new man to come in, stamp his authority on things and move the club forward.

Charlton, Blackburn and Wolves all sacked their managers at dangerous times, and more importantly, replaced them with questionable appointments. Given Stoke's allure as alluded to above, I'd like to think that the club might just do a little better than Iain Dowie, Les Reed, Terry Connor and Steve Kean, especially if they put work in now to find the most suitable candidate in time for preseason. For every Blackburn there is a Swansea; for every Wolves, a West Brom. Change is frightening but is a necessary part of football as well as life and I think the fans are now at the point where they should be more concerned at what would happen if things don't change as opposed to what would happen if they did.