Palatable Stoke deserve England credit
It's not only Roy Hodgson's team selection for the game in Poland on Tuesday night that's changing markedly.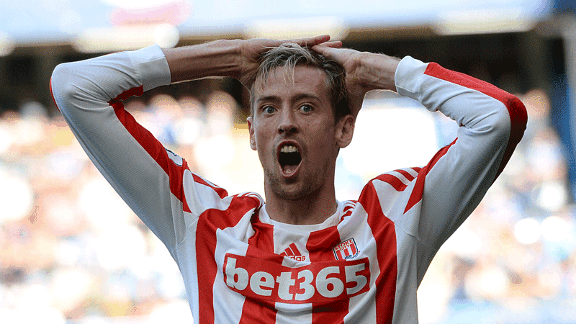 EmpicsPeter Crouch


Back home, in the League from which England's head coach is selecting the men we hope will take us safely through to another World Cup finals, perceptions may also be shifting.

Not so long ago, mention of the Britannia Stadium brought more than just Arsene Wenger and Aaron Ramsey out in a cold sweat. Let's face it, Stoke City haven't been everybody's cup of tea since arriving back in the top flight for the first time in nearly a quarter of a century.

But respect for what they have done – initially grudging in the extreme – appears to be increasing.

What similar-sized clubs like Wolves and Birmingham would give, for a start, for their final placings of 12th, 11th, 13th and 14th over the past four seasons! The conviction that the consolidation process in the Potteries represents a job well done is underlined by the fact that Newcastle are the only other club to have won promotion from the Championship in 2008, 2009 or 2010 and not since gone down again.

This season is shaping up similarly. A record that has so far seen Stoke lose just once in the Premier League in 2012-13 despite an opening set of fixtures that has included Chelsea (their only conquerors), Arsenal, Manchester City and Liverpool supports the view that there will again be several sides worse than they come journey's end. Well, read down the names in their squad and judge for yourself.
Where Tony Pulis once had to make do with the Richard Cresswells and Mamady Sidibes, he now has the wherewithal to raise eyebrows in the transfer market. Peter Crouch has been a big success, in all senses of the word; Charlie Adam was prised out of Anfield at high cost; and another deadline-day recruit, Michael Owen, is patiently (or not) awaiting his first run in the team.

Now whether Owen ever pins down a starting place in a line-up which Pulis uses with only one out-and-out forward is a subject worthy of separate debate. But no-one can argue that his arrival hasn't raised the profile of one of the division's less glamorous clubs.

It may be that the former England man ultimately has to be content with little more than cameo appearances. History tells us, though, that he will sooner or later turn even those opportunities into the goal or two that will justify the decision to sign him.

With Owen on board and Crouch knocking the goals in with a frequency that is impressing everyone but Hodgson, Stoke now have a 'pull' to other big-name targets; be it January or next summer when those benefits are felt. The club are clearly showing other big-hitters that they mean business and are achieving that important next step after survival and consolidation – evolution.

Hand in hand with developing an impressive training headquarters a couple of goal-kicks away from the M6, they are making full use of the excellent relationship between manager and chairman – or Pulis and the Coates family to be more precise – by building their squad strength, season on season. It is a policy that will again ensure they are comfortably above the water line when we arrive at the middle of May.

In Adam, they have a player guaranteed to make them easier on the eye. Stoke's aerial barrage and high reliance on set-pieces over the years has worked, this season we have seen more of a passing game develop. The word evolution applies to their playing style as well.
No longer is the Rory Delap missile one of their main routes to goal. The Republic of Ireland midfielder isn't getting a game at present and, although Geoff Cameron delivers a mean long throw in his own right, gone is the collective groan from the game in general when the ball disappears across the touchline in ST4.

Stoke's game still has its abrasive edges. Robert Huth's bit of 'afters' at Anfield could easily have had him following Andy Wilkinson on the naughty boys' path to Football Association headquarters and there's still a feeling following the recruitment of Cameron and Steven N'Zonzi that big is seen as beautiful along the spine of their team.

Pulis has widespread backing, though, for his outspoken attacks on Luis Suarez and various easily toppled Chelsea players for what he sees as blatant diving and there's sympathy for the club's long wait for further England recognition.

Crouch, whatever the foolishness of his decision to shun a summons from Hodgson for a friendly shortly before the finals of Euro 2012, is living, gangling proof of the fact that sustained success at club level doesn't always lead to selection with England. He has five goals from his last six appearances - to go with his 14 entries on the score sheet last season - but can't even make the squad.

Furthermore, unless we are misreading the signals from Warsaw, Ryan Shawcross will again be on the sidelines when England take on the Poles, leaving one of Friday's scorers, Alex Oxlade-Chamberlain, as the club's closest link to the national side's starting 11. The Arsenal player's dad, Mark, is the last Stoke player to win a senior cap for the country.

Even Potteries critics are coming round to the view that a succession of England managers have too readily scrubbed 'that area between the West Midlands and the Lancashire hotbeds' off their list of places to visit.

At least Shawcross, the very man who made Wenger and Ramsey wince every time they thought of past Arsenal visits to Stoke, is apparently under consideration for a place in the wake of John Terry's international retirement.

Stoke are more palatable to more of us these days. Not only are they making sound continued progress on and off the field, they are doing so in a more agreeable manner.

They have had some flak on their long upward curve. The least they deserve now is at least a faint toehold in our affections.