Stoke starting to take control of own destiny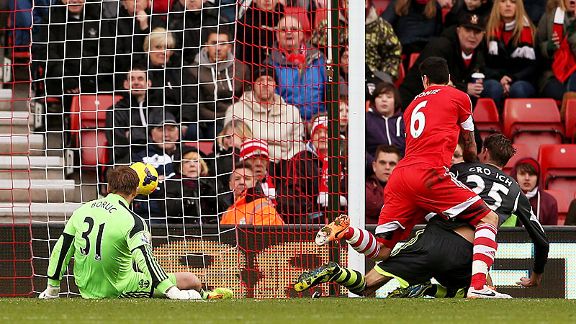 GettyImagesPeter Crouch bundles the ball home against Southampton, his former club, to bring Stoke level at 2-2.
Stoke City put in another solid performance, picking up where they left off in their previous match against Manchester United, as they shared the spoils with Southampton in a 2-2 draw.

Still buoyed by the result from the previous week, fans were hopeful that the team would push on and give the high-flying Saints something to worry about (other than the impending storm headed for the south coast). I must admit to being on the pessimistic side beforehand though, having seen Southampton demolish Cardiff in their previous match.

The team selection didn't provide a confidence boost either, not because I expected anything different, just the realisation that Mark Hughes was going to keep the shape that did so well against Manchester United, which meant Charlie Adam in a midfield two against a very mobile and capable opposition.

Things didn't start brilliantly and it was Adam who gave away a daft free kick on the edge of the area as he raised his hands to block a cross coming in having made an impressive tackle only moments earlier. It was an excellent finish from Rickie Lambert, but nonetheless one that set Stoke back at a disappointingly early stage of proceedings. To the Potters' credit though, it was they who were making strides into their oppositions half with Oussama Assaidi and Peter Odemwingie keeping full-backs Luke Shaw and Nathaniel Clyne on the back foot. Indeed it was in that first period where all four goals were scored and both of Stoke's came via a delivery from the left peg of Adam, who continued to pull the strings for Stoke.

My man of the match though was Odemwingie, who put in another selfless and disciplined performance on the right wing, spending much of his afternoon picking up Shaw's regular forays down the flanks. He's been a breath of fresh air on the right side, but more importantly his skill set has taken the attacking onus from Geoff Cameron's shoulders; which in turn has allowed the American to concentrate on his defensive duties. It's no coincidence that the least couple of games have seen Cameron have some of his best defensive games for the side and of course the often gaping hole in that right-back area is no longer a source of concern.

It's a shame that those in charge of the transfers at the club didn't manage to pull off the reported deal for Jonathan Pitroipa as I'd love to see Odemwingie get his chance leading the line. He's got a look of Ricardo Fuller about him, but with work rate too, which is something rarely witnessed from the departed Jamaican. Odemwingie took his goal well with an assured finish converting exactly the kind of chance that the side have struggled to prior to his arrival in the Potteries. It's good to see him play with a smile on his face; he certainly seems to have fitted right in with the group and looks to be enjoying himself, long may it continue.

Further up field, Jonathan Walters had a much better game. He was poor in the historic win against Manchester United, but on Saturday he more than played his part, making a meaningful contribution to the attacking play. Fans also got a glimpse of on loan striker John Guidetti, though the Swede had little opportunity to get involved given the side were having to withstand heavy pressure from the home team. I'm hoping he keeps his head down and gets his chance to impress in the coming weeks; games have been thick and fast recently so it would not be a surprise to see him get a little more time on the pitch against Swansea.

All in all, a draw was a great result and to see the tenacity and determination of the players again gives me hope that perhaps a corner has been turned and they're starting to get more used to each other. That consistency has been missing all season but dare I say it, is starting to become more and more evident. With each passing performance the players look more and more confident.

Wednesday's game against Swansea will be the true test of that theory. Three impressive performances in a row would be a welcome change to the inconsistencies everyone has had to endure so far this campaign. I've spent the last few weeks predicting which teams will win the various six pointers in and around Stoke, but dare I say for the first time in a while I'm starting to come around to the idea that the club's destiny will be entirely in their own hands.