A six-pointer for Stoke at Sunderland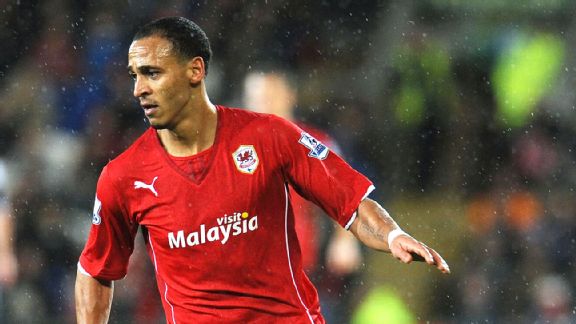 Tom Dulat/Getty Images Peter Odemwingie could make his Stoke debut on Wednesday night against the Black Cats.
It may seem silly to label this game a six-pointer in January, but given how tight the bottom of the table is and with the gap above growing ever larger, Stoke's match against Sunderland is more than fitting for that particular tag.

While there are four months of games left, it's difficult not to apply a certain prominence to this game for two teams who will be there or thereabouts come the campaign's end in May. Stoke's form has tailed off of late and they now find themselves dragged into a relegation battle. This latest match sees them up against a side who were all but written off earlier in the season. Much like recent opponents Crystal Palace, Sunderland seem to have found a bit of form at just the right time and a win over Stoke would see them trail the Potters by only one point.

Stoke will be eager for that not to happen, but if they're to come away with all three points from the Stadium of Light, they need to make changes to the front line having witnessed a number of toothless performances from the current shoe-ins up top. At least manager Mark Hughes now has the options of making those changes with John Guidetti returning from illness and the arrival of Nigerian Peter Odemwingie, who on Tuesday was confirmed to have joined the club in a swap with Cardiff for Kenwyne Jones.

- Report: Cardiff, Stoke to swap strikers

Fans are eager to see Guidetti and while they may be impressed with his level of self-belief, they perhaps won't take as kindly to his suggestion that the club "will have a problem" should he not be given time on the pitch in this game. That's not really the kind of attitude that will endear him to the manager and his staff either, and I'd suggest he'd do well to follow Oussama Assaidi's lead by keeping his head down and waiting for his chance.

That may well come on Wednesday as much as it could for Odemwingie who also goes straight into the squad for consideration. Odemwingie is a player that the manager was keen to acquire in the summer, so Hughes will be happy to get a second bite of the cherry for his signature; especially given he managed to rid the club of a bad apple in the process.

Odemwingie can play all the way across the front line so he offers versatility, but more importantly, he brings a technical ability and pace to a side devoid of both. He'll be eager to put the last six months behind him and in a World Cup year, he'll be out to push his claim for a space in his national side; incentive enough for this deal to be a good one for the club. If things don't work out in their favour though, the commitment is only for 18 months, which means at the end of the current season he'll be into the final year of his contract. Given Jones had forced the club's hand; I'd say it's an opportunity that presented good value and options for the club in an area desperate for improvement.

Whether either will see a start tonight remains to be seen, but you would expect both will have the chance to impress at some point. They certainly can't do much worse than Peter Crouch and more specifically, Jon Walters. Poor Jon had arguably his worst game for Stoke at Stamford Bridge finding a Chelsea player with just as many passes as he did his own teammates. He did have an impact though, having failed to replicate his ball-to-face trick, he instead amused the fans with his attempts to control a ball, falling flat on his backside. His time is surely up in the side and with the arrival of the new players, especially Odemwingie, hopefully he will get his long overdue extended break from the side.

Captain Ryan Shawcross should also feature, subject to the referee approving his cast, following a wrist injury and he will take his place back in front of Asmir Begovic, who has returned at just the right time. His reintroduction to the side is perhaps harsh on Jack Butland, but hopefully Butland has impressed enough to get himself a loan to a Premier League side, or at least one chasing promotion in the Championship for the remainder of the season.

There's certainly plenty more points to play for and three tonight against one of Stoke's immediate peers would be a great start before the visit of a Juan Mata-inspired Manchester United on Saturday. Despite their disappointing start to the season, I don't think they'll quite see that match as a six-pointer.