Rumoured Cattermole deal doesn't add up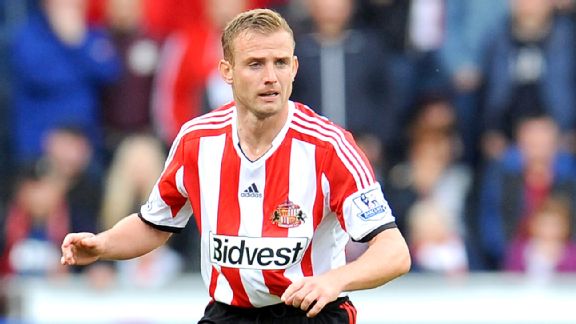 Tom Dulat/Getty ImagesSunderland's Lee Cattermole has been strongly linked with a move to Stoke City.
Having heard Mark Hughes say that the side lacked guile following the defeat at Crystal Palace, fans could be forgiven for dreaming of players in the ilk of Lewis Holtby, rumoured to have been in attendance at the game. Instead, reality has well and truly hit home with local newspaper, The Sentinel, reporting that Hughes is "closing in fast" on a five million pound deal for Lee Cattermole, a man only one sending off shy of Richard Dunne, Patrick Vieira and Duncan Ferguson in the top-flight hall of shame.

- Report: Cattermole edges closer to exit

The fans are perfectly aware that change is afoot and I'm more than willing to consider some of the more unpopular names that are thrown into the mix, as I can see their relative merit in a side evolving away from a style and reputation of old. Cattermole, though, would appear to be the very antithesis of what Hughes is trying to achieve and with the Chairman insisting that the club must make better decisions on transfers, I'm struggling to justify this as anything but.

Value is a term that has been popular since the new manager came in and his acquisitions to date have all seemed sensible, prudent and very much in the mould of a side more confident in possession. I agree that Stoke could benefit from a defensive destroyer in front of the back four, but refuse to believe that they can't find a better alternative for the rumoured fee and wages that would see this one sit right at the top of the club's earners. While defensive midfield isn't necessarily a priority, it's a problem that could well be solved with the purchase of a new right back, which is needed to free up Geoff Cameron to assume duties in midfield. If that was done, then it would be killing two birds with one stone; in fact, it would be more like three as Jon Walters would then not be needed to cover the makeshift right back meaning a more attacking option could come in on the wing.

Going back to Cattermole, he's far from a poor player; in fact there are many good parts to his game, but the same could be said for the likes of Glen Whelan too, and Cattermole would be no upgrade on the Irishman. Granted, I don't watch him every week, but out of all of Sunderland's players, I always find myself commenting unfavourably on that particular one. In the most recent of those matches, against Southampton, he stood out for all the wrong reasons: he looked terrified in possession, failed to find his teammates and committed stupid fouls, including a petulant one after having been caught in possession (again).

I've been told that the side need bite in the middle for a relegation battle. I'd agree -- but at what cost? In such a situation, what a manager and team needs is discipline. Fans have seen how Charlie Adam is often a liability in that respect with his early bookings leaving him on a tightrope for the majority of the game and Cattermole is much the same. Steve Bruce, who shelled out six million pounds to bring Cattermole to Sunderland has in the past talked of the players' inevitable red mist before adding:

"Thankfully he's not mine to manage anymore."

Hardly a ringing endorsement from a trusted ex-colleague of Hughes, or the kind of challenge you would think he would welcome in the midst of a relegation scrap. In that respect, one would also question the apparent readiness at which Sunderland are willing to let a player go to one of their rivals. Sunderland manager Gus Poyet would appear to not rate the player, instead wanting to bring in one more comfortable on the ball; ironically, the kind Hughes should be after. Some have suggested it's more the character than the ability that is the attraction, but given the ones they have at the moment, you get the feeling that introducing Cattermole into a dressing room with the likes of Steven N'Zonzi and Marko Aranutovic would see the kind of fireworks reserved only for Mario Balotelli's bathroom.

In summary, there is very little that adds up in this deal and I can only hope that the name has been thrown to the local press to throw up the inevitable noise to allow the club to sneak a better suited alternative in. If that proves not to be the case, then I fear for the immediate future of my club so often at the end of poor refereeing decisions. Overcoming the man in the middle's pre-conceptions of the team is hard enough, but I can't begin to imagine the ramifications if you added a player with Cattermole's own reputation into the mix.