Palace pip the Potters on Pulis' day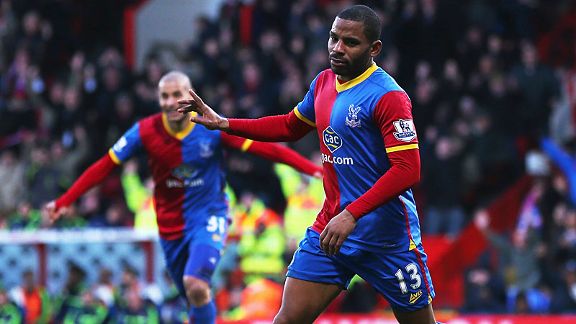 GettyImagesJason Puncheon put Crystal Palace a goal to the good against Stoke City.
It was always going to be a bit of a surreal day for many as they headed to a match that carried so much more meaning than just points on the board, but it was a typical Tony Pulis performance from Crystal Palace as they beat the Welshman's former side Stoke City 1-0.

Stoke fans celebrated Pulis' legacy in the stands with songs and banners and ironically it was his legacy of the one paced inconsistent performers he trusted so much on the pitch who let those fans down again. The fact is that the group Pulis left his successor is devoid of any inspiration, pace or power; three things that Mark Hughes' chosen system requires in order to tick.

- Pulis praises Puncheon

To that end there is probably an argument to suggest that Hughes is asking too much of the group given their clear deficiencies, whereas Pulis' Palace seem to have hit the ground running. The argument is a valid one, but I think it's much harder to try and be bold than it is to strip away the players' decision making in order to make an effective unit. As ever, the balance is perhaps somewhere in-between.

Hughes' problems are there for all to see; the individual errors that have besmirched his defence all season once again surfaced as Marc Wilson was asleep to Oussama Assaidi's pass back. You could argue that Assaidi sold him short, but the tackle and pass back into the penalty area is something Stoke have brought into their game since Hughes' arrival so Wilson should have been alive to it instead of day dreaming and flat footed. The move wasn't over with that pass though and Wilson had plenty of opportunity to show Palace's Jason Puncheon onto his weaker right foot, but instead shepherded him onto his favoured left, handing him the initiative.

Having done reasonably well in his first couple of games standing in for Robert Huth, the problems fans have seen from him at right-back, left-back and central midfield seem to have followed him into the middle of defence, which is the worst place of all for them to occur.

It was much the same story up top too. Jon Walters was once again guilty of not taking three good chances. It's been an all too common theme for him and his (lack of) pace and (lack of) finishing is just another hurdle for this new side to overcome every week. If he gets the ball in midfield or the final third, more often than not the move just ends. Premier League games are hard enough, away matches even more so, and the manager and fans need to know that when a chance to score falls their way it will be converted.

That the team needs a defensive forward to help out at right-back is a concern and raises more questions of the choices being made there in the absence of a better suited option than Geoff Cameron. The American has been a revelation for the most part this season, but the limitations are such on that side that it is Cameron that is asked to take on the attacking role and defensive cover.

In fact there was only one player who emerged from Saturday's match with any real praise and that was young keeper Jack Butland. Stoke's man between the sticks put in a great performance and were it not for his agility and wherewithal the score line could have looked very different indeed. His triple save was first class and his late one on one wasn't far behind. He has thrown his hat firmly into the ring for a ticket to Brazil in the summer with the national side.

If I have one criticism of him though it would be his command of the area, especially when crosses come in; his decision making isn't great and he often stands on his line or rushes out and misjudges the flight of the ball. But the fact that the same could be said of Asmir Begovic when he first pulled on the number one jersey bodes well for the young Englishman. Under the same guidance and watchful eyes can go on to make the same impact as his teammate.

There is a lot of work for Hughes and his team to do in the coming weeks and based on what has transpired so far, I'm hoping some of it will involve a big fat cheque or two.