Saturday's game is about points, not Pulis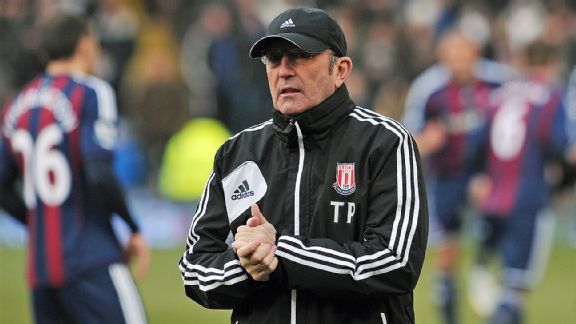 Carl Court/AFP/Getty ImagesStoke City will face off for the first time against former manager Tony Pulis when the Potters travel to Crystal Palace on Saturday.
Saturday's match sees the Potters fans make their way to South London to take on previous manager Tony Pulis' Crystal Palace side.

There is a clear significance to the game: it's the first time in which Pulis has taken on his old side since his departure, and while many are discussing how best to greet and thank their former manager, this fan is more concerned with Stoke City and their fortunes on the pitch.

- Report: Stoke hit Jones with fine

I've seen threads on message boards and trends on Twitter which are starting to turn the game into a sideshow that happens to be taking place around a Pulis tribute. It's a crucial game for Stoke against a side below them and a chance to put a bit of breathing space between themselves and the trailing pack.

A loss would see Palace, a team universally written off at Christmas, a mere two points behind the Potters, whereas a win could see Stoke climb a couple of places in advance of some difficult games. I imagine current boss Mark Hughes and his players will be hoping the fans put their efforts into supporting their team, something they haven't done too well this season at times. While I fully expect Pulis to get a warm reception, as well he should, as soon as that whistle goes I hope his team gets beaten and beaten well, just as I do against any other side Stoke face, regardless of manager.

In terms of what to expect from the actual game, it will be an interesting one. Pulis certainly seems to have organised a Palace side that was lacking exactly that prior to the Welshman's arrival, and for the most part they have equipped themselves well since. Knowing Pulis, despite him playing at home, he will have two banks of four behind the ball for the majority of the game hoping to catch his old side on the break. Hughes will naturally go there to win, but he'll need to impress on his team the need to make meaningful progress up the pitch. Possession in front of Palace's back nine won't worry Pulis so it's important that there is good movement on and off the ball.

I expect that the team will be much the same as their last match, with Hughes having to decide whether or not to bring Oussama Assaidi back into the side after having not been able to feature against his parent club last week. If that happens, it would be Marko Arnautovic who could potentially miss out, the temperamental Austrian brushed aside a poor first half against Liverpool to put in an impressive performance in the second period and finished the match with two assists. Hughes has rewarded form this season though, and so I wouldn't rule out the idea of both Arnautovic and Assaidi starting, meaning Pulis' golden boy of old, Jon Walters, would drop to the bench. The manager will see this game as one that his side should win and that could well be reflected in that change being made. It certainly makes sense to play players on form together.

Hopefully fans will get a glimpse of John Guidetti at some point, too. There is much expectation on the young Swede's shoulders and he'll be itching to make his debut for Stoke to show what he can do. I certainly don't expect him to start; that will be Peter Crouch, who along with Walters if he plays, will be under the watchful eye of their former manager and his staff as Palace look to bring in their own reinforcements in the coming days and weeks. One striker who won't be involved from the start or indeed from the bench though is Kenwyne Jones. Hughes confirmed that the Trinidadian will play no part following his well-publicised no-show against Liverpool.

Jack Butland will once again get the nod between the sticks as the young Englishman puts to bed the nightmare of the five goals he conceded on his Premier League debut. It's important that the defence have as much belief in their keeper as he does in himself. I got the impression that last week that wasn't the case, to the side's detriment.

A clean sheet will do him the world of good and that's more than achievable if his teammates are on their mettle and keep their concentration in a game where they will most likely have the majority of possession. Add a goal or two to that and Hughes will consider it a job well done. That is provided he can fight his way through the pro-Pulis sentiment and banners to ultimately make his way back to the Potteries with a smile on his face and most importantly, three more crucial points on the board.