Hughes is Stoke's new loan arranger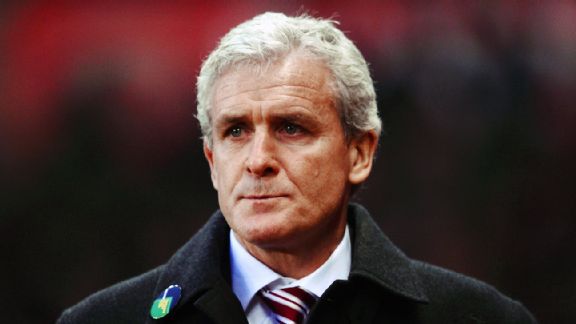 Laurence Griffiths/Getty ImagesMark Hughes has added several key pieces to his Stoke City side via the loan market.
It's often remarked that Stoke were the first side to really exploit the rules around the loan market as they used it to their significant advantage for their promotion push. Little would appear to have changed this week then as they once again juggled their commitments to facilitate the arrival of two players and possibly a third: Stephen Ireland and John Guidetti are set to join while Juan Agudelo has claimed via Twitter that he is joining the club, although the club has not officially confirmed. Ireland was on loan but made permanent so that the club could get Guidetti on loan. Agudelo would arrive on a permanent basis but then be sent out on loan.

- Report: Stoke sign Guidetti and Ireland

It was only days ago when I commented that Mark Hughes would be looking to do his business early and that was borne out with the arrival of the trio mentioned barely into the second week of the transfer window. It's a far cry from the last minute trolley dashes of the previous regime and gives hope to the fans that there is a modicum of planning and preparation in place from the manager and transfer team.

Ireland is a player the Stoke fans know well and one who, despite impressing, is yet to reach his potential in the red and white of his new club. It's long been my opinion that it is he who fits Hughes' system best of the options available, the other being Charlie Adam. Interestingly, Adam is reported to be a target for Roberto Mancini at Galatasaray and while it's proved far from a popular opinion, I'd be more than happy to let him leave for the reason stated above, provided a more suited replacement could be brought in.

John Alberto Fernando Andres Luigi Olof Guidetti (or JAFALOG for short) is the exciting one and the Swede now has the opportunity to build on his impressive spell in Holland, where he scored 20 goals in 23 games including three hat tricks. I'm always cautious when a player has been struck down by a virus as they aren't as straight forward as bone and tissue injuries, but the noises are positive so I'm cautiously optimistic. He looks a skilful player and one who I've been told will work hard for the team and revel in the bosom of a passionate and appreciative support. While it's far too early to talk about a permanent deal, the fact that at the end of this loan he will be in the final 12 months of his deal at Manchester City gives me hope for the side's prospects of keeping him. I'll try not to get ahead of myself on this one but it's difficult to ignore the hype that surrounds him.

Agudelo is the other player who has supposedly signed for the club following a failed work permit application in the summer. The club are still without a permit for him, but are confident of a successful application which will be submitted in March. With him unable to feature for Stoke until that is granted, he would be packed off to another club Europe in the coming days to maintain his form and fitness in readiness for his long awaited debut for the Potters.

I'm still expecting at least one more signing for the front line, such is the need for change there, especially with Guidetti being an unknown quantity in the first team of a club in the most physically demanding league in the world. In fact, there could be more than one dependent on outgoings; the most likely of which would appear to be Kenwyne Jones who is reported to have gone on strike to force through a move this window. It's not the first time Jones has done this -- having used a similar tactic to move from Southampton -- but I imagine it is the last thing he will do for this club and rightly so having shown them, his teammates and the fans, such a lack of respect and professionalism.

Then you have Peter Crouch and Jon Walters, both of whom have been linked with moves to be reunited with their former manager, Tony Pulis. Again, I would be happy to let both leave if more suited replacements have been lined up to bring in. The problem the club might have in that respect is if Pulis waits until the last minute to bid for them, Stoke would not have the time to bring in ample replacements. I'd like to think that any interest has been discussed informally and the former Stoke manager encouraged to firm up any interest sooner rather than later, lest his advances be rebuked in the final hours.

One thing is for certain, these are exciting times for Stoke fans, and with over two weeks of the transfer window remaining, there's plenty more wheeling and dealing to be done for a manager who will no doubt be buoyed by the opportunity of further shaping the squad in his image.