Stoical Stoke make a solid start to 2014
It wasn't quite Stoke getting back to winning ways but they did get back the level of commitment and desire the fans demand as they drew with Everton 1-1 at a wet and windy Britannia.

The late goal was cruel to a side that defended manfully for 90 minutes but if I'm honest it was probably deserved for an Everton side team who saw the majority of the possession.

Most fans would have taken a point before the match but a late equaliser always hurts and that there was such a stupid decision made by a player to give away the penalty was particularly frustrating. Jermaine Pennant was far too reckless in his harrying of Leon Osman and having got away with one risky tackle that saw the Everton man go to ground, the Stoke winger then flew in to fell him once more despite there being plenty to cover the cross.

It was a stupid move from a player who will have done little to further his case for inclusion but at the same time the response from some fans in the aftermath are as ridiculous as the challenge itself. The calls for Pennant to never play for the club again are a little over the top, the same fans forgetting that he won the game for the Potters down at West Ham earlier in the season. I'm not suggesting Pennant is the answer on the right because I don't think that is the case but I don't think his career should be written off either, just like I didn't with Oussama Assaidi when he was facing similar criticism earlier in the season.

Instead fans should celebrate the positives to come out of the game and there were plenty, most notably the performances of Ryan Shawcross, Erik Pieters and that man Assaidi.

Shawcross looked the complete defender, his positioning was perfect and he marshalled Romelu Lukaku brilliantly throughout as well as helping his team mates out. Another part of his game that looked to have improved was his confidence and distribution with him jinking past defenders instead of hoofing the ball forward as well as playing perfectly weighted balls into the channels for the full back to collect.

On this form it won't be long at all until he is called up to his national side, in a perfect world anyway, the England manager certainly couldn't deny him a chance if he continues in this vein.

Pieters had a good game having looked inconsistent at times this term. Ironically, he looks better as the kind of defender Stoke fans are used to, throwing his body in front of shots and making last ditch tackles. Whilst he can also be good on the front foot he's certainly no wing back and I'm glad he had the chance to impress today to show what he can do. People forget that he has been out injured for a long time as well as moving to a new country and like others around him he looks to be getting better and better.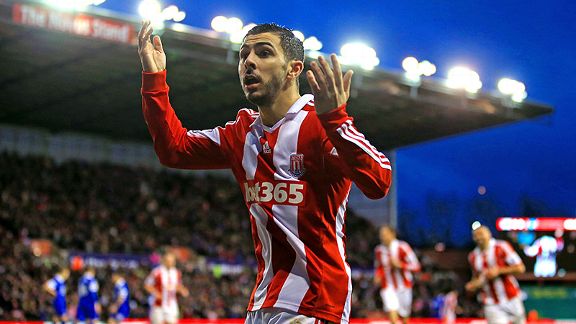 Richard Heathcote/Getty ImagesOussama Assaidi opening the scoring for Stoke City.
That's certainly the case with Assaidi too, as I always maintained it would be. The Moroccan is getting stronger with every game he plays, his confidence is growing and he was a magnificent outlet on the day. Defenders simply hate playing against pace and trickery and he has both in spades. Everton had their work cut out marking him and that threat saw Seamus Coleman spend less of his time in his side's final third. I'm glad that Mark Hughes persisted with him as he is reaping the rewards now after he scored his third goal in five games, for me he is one of the first names on the team sheet at the moment and rightly so.

A special word too for Jack Butland, who made his Premier League debut, coming on for the injured Thomas Sorensen. He won't have a quieter afternoon and was unlucky to pick the ball out of the back of the net having not had to deal with a serious effort on goal for the time he was on the pitch.

I maintain he should keep his place over Sorensen, the Dane is now the most substituted goalkeeper in Premier League history (13 times) and it makes little sense to put so much stock in him when the side have the goalkeeping future of the club waiting in the wings. I more than expect Butland to keep his place against Leicester and, bar any calamities, for the Liverpool game afterwards too; this is his chance to impress club and country, it's now up to Jack to take it with both hands.